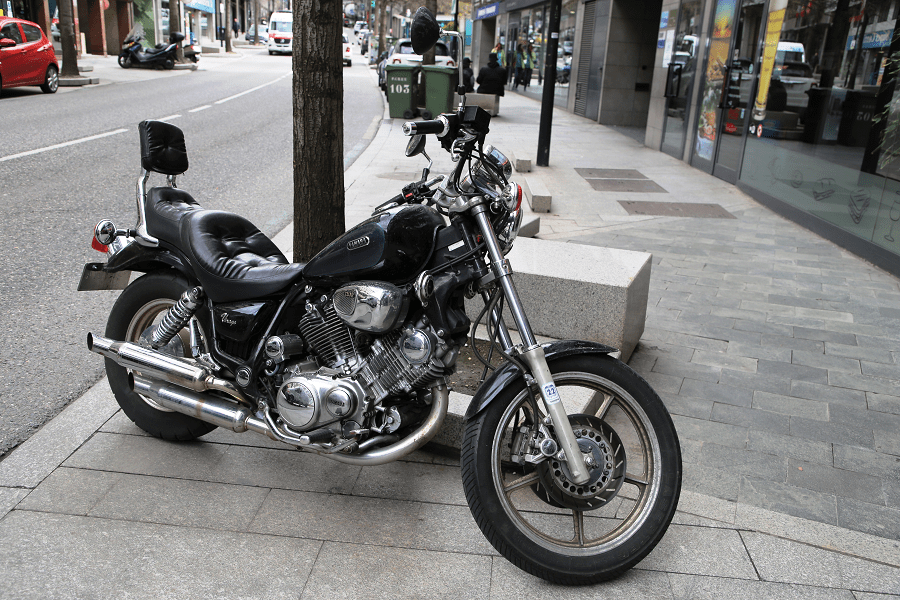 Yamaha XV1100 Virago. Black version
The Yamaha Virago XV1100 is a motorcycle manufactured by Yamaha Motor Corporation between 1986 and 1999. It was one of several in the Virago line and was positioned as a large-size cruiser with an engine displacement of 1,063 cc (64.9 cu in).
It was one of the few cruiser-style motorcycles available with a shaft drive instead of a chain or belt final drive system, as well as a V-twin engine of that size. Its heavily chromed body styling was also distinctive.
The Virago line was born in 1981 with the XV750. In 1982, the larger 920 was introduced alongside the 750, with several more deluxe features. The 920 was redesigned in 1984 and engine size increased to 981 cc (59.9 cu in) resulting in the renamed XV1000. In 1986, engine size was again increased to 1,063 cc (64.9 cu in), resulting in the renamed XV1100.
This model was discontinued in 2000 as the "Star" range of motorcycles took over as the cruiser line from Yamaha. The DragStar 1100 is often seen as the successor to the XV1100.