The Palace of Tsar Alexei Mikhailovich is a wooden royal palace built in the village of Kolomenskoye in Moscow in the second half of the 17th century.
It was a system of stands – separate wooden rooms connected by passages.
In 2010, a life-size historical copy of the palace was erected on the undeveloped territory of the Kolomenskoye Museum-Reserve, the facades and general layout of which exactly repeat the original structure of the 17th century.
The reconstruction of the Kolomensky Palace was conducted in 2008-2010 thanks to the surviving plans and measurements. The building is a layout of the time of Alexei Mikhailovich in full size.
The design and proportions of the building were solved by the drawings made by the decree of Catherine II.
Critics of restoration doubted the authenticity of the schemes.
They called them artistic fiction, but the excavations of the foundations made by archaeologist Leonid Belyaev confirmed the complete coincidence with the drawings created in 1767.
The decoration of the premises and paintings were made according to archival materials and resembled the original style.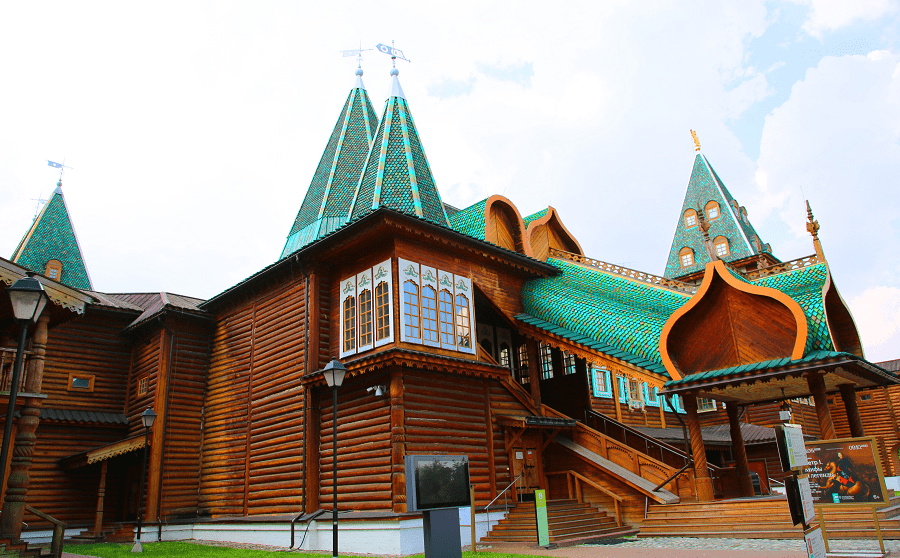 The total area of development is more than 7,000 m². Historical interiors are recreated for a total area of 1.775 thousand m² in 23 rooms.
Mansions are located at five levels and combine five buildings.
The new building is not entirely wooden.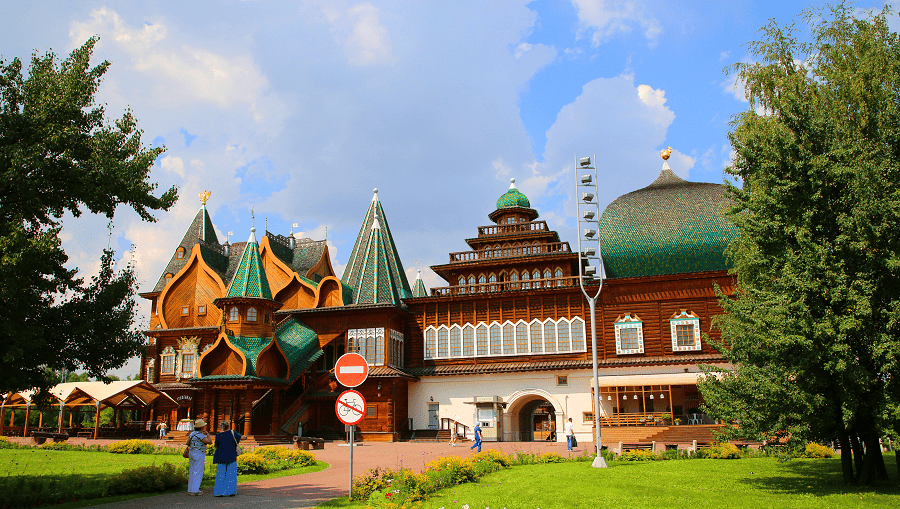 Carrying columns and ceilings, disguised as boards, are reinforced concrete, and facades are made of logs.
The walls are painted with engravings, "injuries," with stylized images of animals and people.
The interiors include numerous works of art from the XVII -XVIII centuries: genuine icons, trellises and household items.
Nearest metro: Kolomenskoye
Alexei Mikhailovich (1629 – 1676), also known as Alexis, was the Tsar of Russia from 1645 until his death in 1676.
He was the first tsar to sign laws on his own authority and his council passed the Sobornoye Ulozheniye of 1649, which strengthened the bonds between autocracy and the lower nobility.
In religious matters, he sided closely with Patriarch Nikon during the schism in the Russian Orthodox Church which saw unpopular liturgical reforms.
See also Architecture of Moscow, Palaces and most historic buildings of Moscow.