A dense, easy-to-digest, nutrient-rich food – it's the secret to feeding the best skiers in the world
The AUDI FIS World Cup (last stage) of alpine skiing ended in Andorra. As a result of this event, we discovered what the athletes ate at such an intense competition. My blog talks about this today.
The main diet of world-class skiers is composed of local products: legumes and fruits rich in antioxidants, grown in Andorra as well as in Spain and neighboring France. Salmon on toast with avocado and green shoots, as well as the "snow smoothie" – a cocktail of protein-rich bananas made with coconut water and grated coconut – have been a great success.
Banana is an energy product containing potassium. Coconut is known for its regenerating properties due to its high mineral content.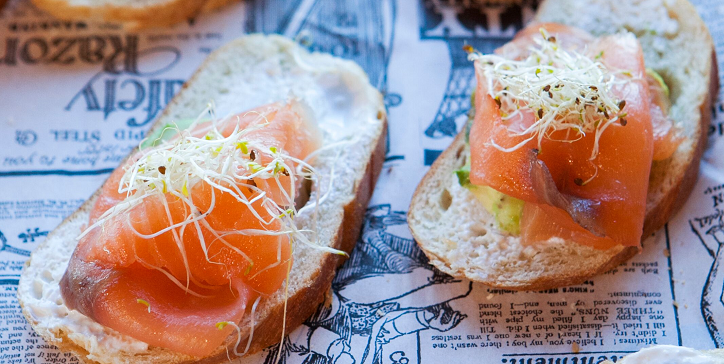 "A good diet is an integral part of every athlete's life. Choosing the right diet is a guarantee that long and exhausting workouts for hours will be advantageous and will not be lost," says the professional nutritionist, author of healthy food books, and nutrition adviser for the alpine skiing world cup, Marta Pons. "The athletes' diet is based on energy, easy digestion and high nutrient levels," she says.
Alpine skiing is a very "explosive" sport, it requires a large amount of glycogen in the muscles. It is therefore very important to consume carbohydrates – cereals, rice, enriched pasta, legumes and fruits. It is important to note that athletes follow this type of diet not only on competition days but also a few days before.
According to Marta Pons, breakfast should contain 600 kcal. It was offered to athletes two hours before the race and consisted of high-calorie foods: different types of bread, cereals, healthy fats (olive oil and avocado that has almost all the essential fatty acids), as well as pro-proteins (Spanish salmon, tuna or Iberian ham). Egg omelets, tofu, fruit and nuts were also an integral part of the athletes' breakfast.
Also worthy of mention is the dairy category – you could find types of vegetable milk (almond, coconut, oats), as well as a rich selection of cheeses and local yogurts.
Drinks include freshly squeezed juices (mainly citrus fruits, rich in vitamin C), as well as coffee, teas and sports drinks.
The sugar on offer was only the unrefined kind (cane sugar, honey or pure cocoa). Of course, athletes are "normal people" and variations are sometimes allowed in relation to the diet. But all the desserts had been carefully selected and were balanced. Among the treats offered were dried fruits, light banana cakes and honey pancakes.
"If an athlete is hungry just before the race, he must consume fast-digesting carbohydrates (fruit paste, banana or nuts)," says Marta Pons.
With respect to nutrition after the competition is over, the main goal is food recovery. After all, athletes perform intense muscular work in a short time. It's a real stress on the body. In addition to rehydration – the replenishment of water losses in the body – proper consumption of carbohydrates and protein is necessary. Beans are a great option. The athletes' menu is normally composed of lentil salads or beans.
Special attention should also be paid to iron-rich products. "Iron helps to enrich the blood with oxygen, which is particularly important for competition at altitude," explains Marta Pons.
Because of the competition at altitude, athletes often have to deal with very low temperatures. "But even in very cold weather, you do not have to change the diet. But you have to eat more hot dishes. For example, hot rice for breakfast, pasta or consommé, which is also rich in mineral salts," concludes Marta Pons.
But what do skiers never eat during a race? These are all types of unhealthy fats (egg, sausages), fried foods and products containing an excessive amount of sugar.
Photo: Grandvalira