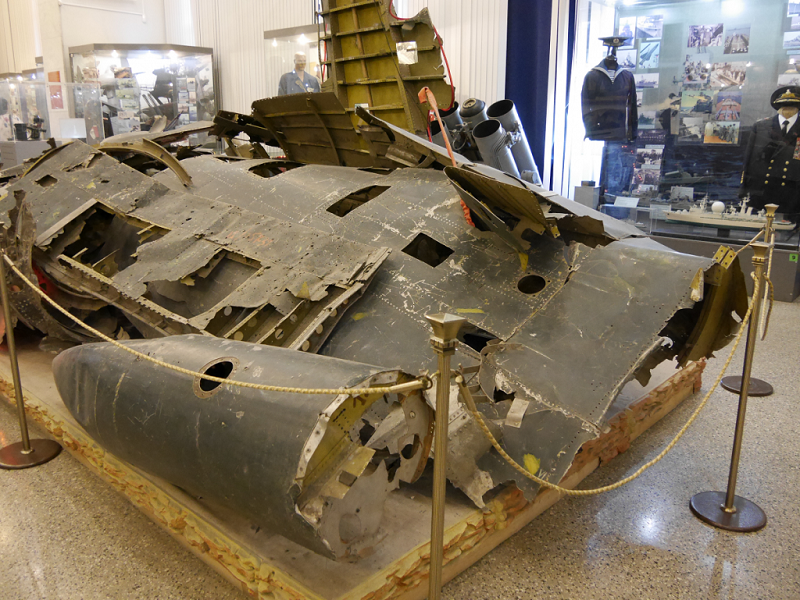 Weapons of the "Cold War": the remains of the American reconnaissance aircraft Lockheed U-2.On 1 May 1960, a United States U-2 spy plane was shot down by the Soviet Air Defence Forces while performing photographic aerial reconnaissance deep into Soviet territory.
The single-seat aircraft, flown by pilot Francis Gary Powers, was hit by an S-75 Dvina (SA-2 Guideline) surface-to-air missile and crashed near Sverdlovsk (today's Yekaterinburg). Powers parachuted safely and was captured.
The S-75 (NATO reporting name SA-2 Guideline) is a Soviet-designed, high-altitude air defence system, built around a surface-to-air missile with command guidance. Following its first deployment in 1957 it became one of the most widely deployed air defence systems in history. It scored the first destruction of an enemy aircraft by a surface-to-air missile, with the shooting down of a Taiwanese Martin RB-57D Canberra over China on 7 October 1959 that was hit by a salvo of three V-750 (1D) missiles at an altitude of 20 km (65,600 ft).
This success was credited to Chinese fighter aircraft at the time to keep the S-75 program secret.
This system first gained international fame when an S-75 battery, using the newer, longer-range, higher-altitude V-750VN (13D) missile was deployed in the 1960 U-2 incident, when it shot down the U-2 of Francis Gary Powers overflying the Soviet Union on May 1, 1960.
The system was also deployed in Cuba during the Cuban Missile Crisis, when it shot down another U-2 (piloted by Rudolf Anderson) overflying Cuba on October 27, 1962, almost precipitating a nuclear war.
North Vietnamese forces used the S-75 extensively during the Vietnam War to successfully defend Hanoi and Haiphong against US bombing. It was produced in the People's Republic of China under the names HQ-1 (under licence) and HQ-2 (modified, named FT-2000A). Egyptian engineers produced a reverse-engineered S-75 with the name Tayir-as-Sabah.
Francis Gary Powers (August 17, 1929 – August 1, 1977) was an American pilot whose Central Intelligence Agency (CIA) Lockheed U-2 spy plane was shot down while flying a reconnaissance mission in Soviet Union airspace, causing the 1960 U-2 incident.
He later worked as a helicopter pilot for KNBC in Los Angeles and died in a 1977 helicopter crash.