2013 Volkswagen Beetle A5. Man's choice type of aerography
The Volkswagen Beetle (also sold as the Volkswagen Käfer, Volkswagen Coccinelle, Volkswagen Maggiolino, Volkswagen Fusca in some countries) is a small family car manufactured and marketed by Volkswagen introduced in 2011 for the 2012 model year, as the successor to the New Beetle launched in 1997. It features a lower profile while retaining an overall shape recalling the original Volkswagen Type 1 Beetle.
One of Volkswagen's goals with the model was to give it a more aggressive appearance while giving it some stylistic aspects reminiscent of the Type 1. This was an attempt to distance the new model from the New Beetle, produced from 1997 to 2011, which never approached the success of the first Beetle.
The second generation "new" Beetle shares the "A5" (PQ35) platform with the current generation Volkswagen Jetta and is built alongside the Jetta, Golf Variant and the old Jetta ("Clásico") at Volkswagen's plant in Puebla, Mexico. It is longer than the previous New Beetle at 4,278 mm (168.4 in) and also has a lower profile, 12 mm (0.5 in) lower than its predecessor, and 88 mm (3.5 in) wider. The trunk is now 310 L (11 cu ft), up from 209 L (7.4 cu ft).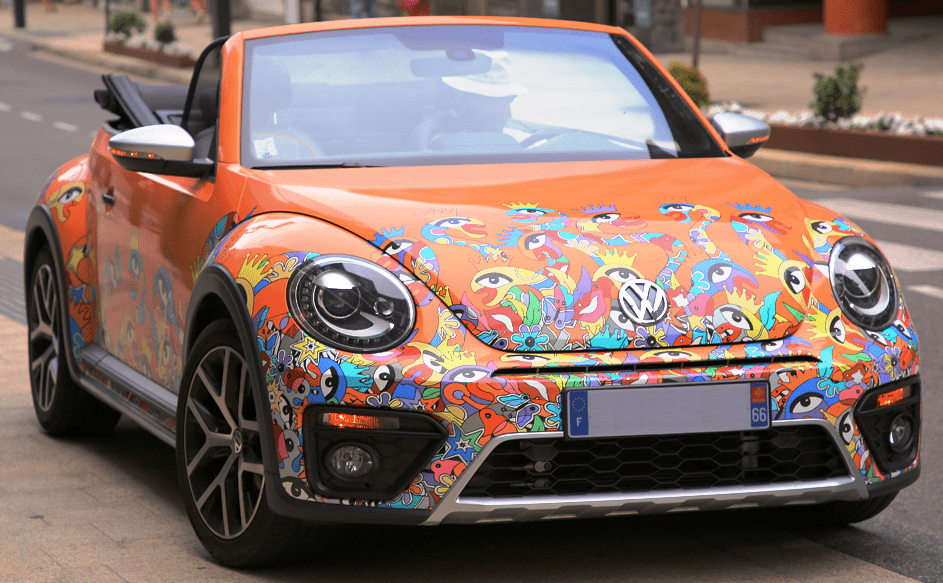 A convertible version followed the coupé for the 2013 model year, first shown at the Los Angeles Auto Show in November 2012 when it also went on sale.
Head of Technical Development for VW, Frank Welsch, indicated at the 2018 Geneva Motor Show that this would be the Beetle's final generation.
On 13 September 2018, Volkswagen announced that the Beetle production would end in July 2019. The final third generation Beetle (a denim blue coupe) finished production on 9 July 2019 and was presented on the assembly line the next day. The model was officially retired at a ceremony in Puebla City later that day.