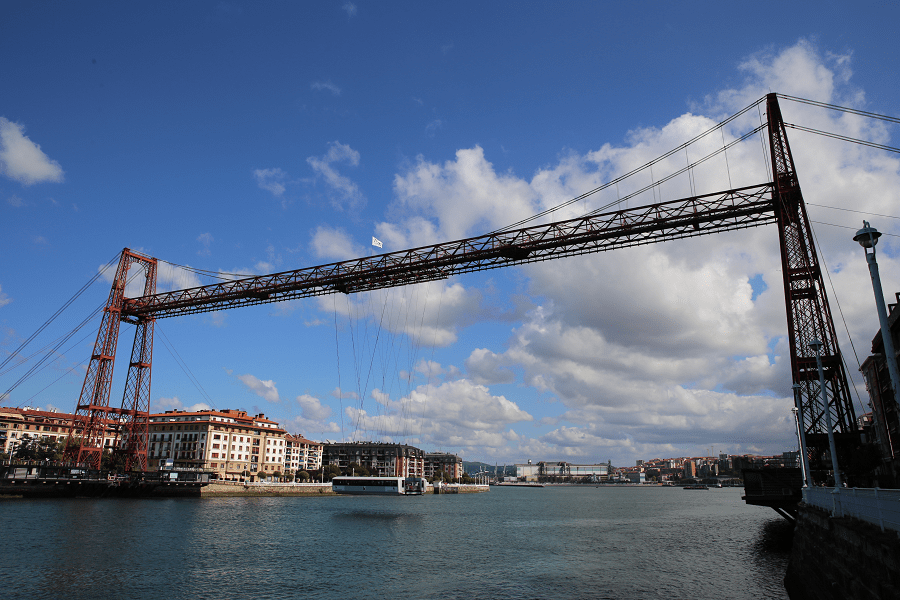 The Vizcaya Bridge (Bizkaiko Zubia in Basque, Puente de Vizcaya in Spanish) is a transporter bridge that links the towns of Portugalete and Las Arenas (part of Getxo, 15 minutes by car from Bilbao) in the Biscay province, Basque country, Spain, crossing the mouth of the Nervion River.
The Vizcaya Bridge was built to connect the two banks which are situated at the mouth of the Nervion River. It is the world's oldest transporter bridge and was built in 1893, designed by Alberto Palacio, one of Gustave Eiffel's disciples.
The Engineer Ferdinand Joseph Arnodin was in charge, and the main financier of the project was Santos Lopez de Letona. It was the solution given by the engineer to the problem of connecting the towns of Portugalete and Getxo without disrupting the maritime traffic of the Port of Bilbao and without having to build a massive structure with long ramps.
The bridge, still in use, is 164 meters long, and its gondola can transport six cars and several dozen passengers in one and a half minutes.
It operates every 8 minutes during the day (every hour at night), all year round
Worldwide Transport Bridges Network
There are currently eight transport bridges in the world:
Newport Transport Bridge (1906) in the United Kingdom,
Rochefort transport bridge (1900), France
Transport bridge Osten Transporter Bridge (1909) in Germany,
Middlesbrough Transporter bridge (1911) in the United Kingdom,
How to get to?
From Vitoria-Gasteiz 1 hr 5 min (75.9 km) via N-622 and AP-68
From Bilbao 27 min (13.6 km) via A-8
From Madrid 4 hr 7 min (414 km) via A-1