Yellow Lamborghini Urus from Saint-Tropez
The Lamborghini Urus is a luxury SUV manufactured by Italian automobile manufacturer Lamborghini. It was introduced in December 2017 as a 2018 model year production vehicle.
The Urus is the first Lamborghini SUV and five-door vehicle in the modern era (under the ownership of Volkswagen Group), and the second SUV in the brand's history after the LM002, which was produced between 1986 and 1993.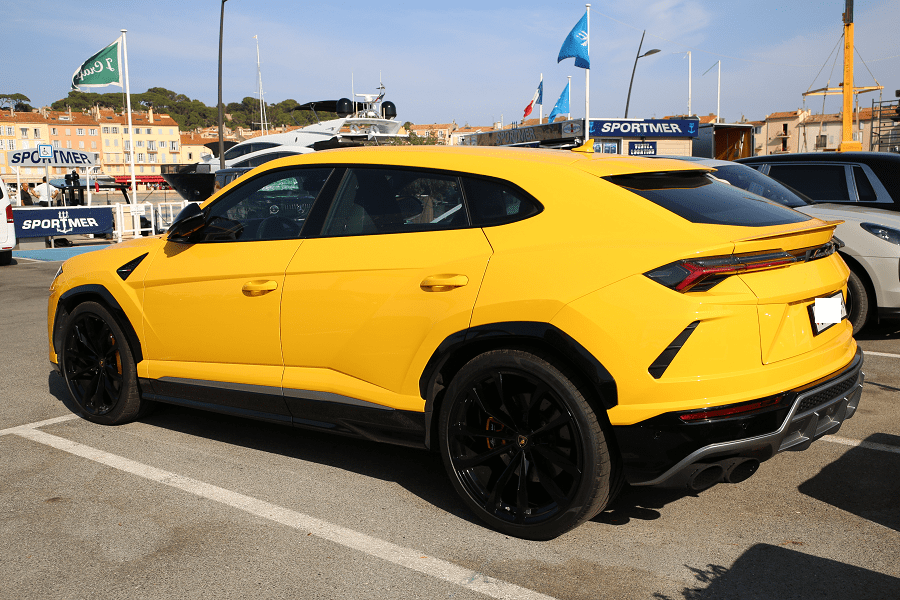 Built on the Volkswagen Group MLB Evo platform, the Urus shares many components with other Volkswagen Group luxury SUVs, such as the Audi Q7, Bentley Bentayga, Porsche Cayenne, and Volkswagen Touareg. With a top speed of 305 km/h (190 mph), the Urus is considered as one of the fastest production SUV in the world.
The name comes from the urus, the ancestor of modern domestic cattle, also known as the aurochs.
Characteristics
The Urus does not use Lamborghini's hallmark of naturally aspirated V10 (as used in the concept) or V12 engines.
Instead, the Urus is powered by a 4.0-litre twin-turbocharged V8, a modified version of Audi's 4.0-litre V8.
The engine is rated at a maximum power output of 478 kW (641 hp; 650 PS) at 6,000 rpm and maximum torque of 850 N⋅m (627 lb⋅ft) at 2,250–4,500 rpm.
The engine has been heavily reworked for the Urus, and is uprated by 100 PS (74 kW; 99 hp) and 80 N⋅m (59 lbf⋅ft) of torque more than the Cayenne Turbo, with changes such as new cylinder heads. The engine is assembled at a Volkswagen plant in Hungary and is shipped to Lamborghini's assembly plant, and has application in other VW Group cars, including both the Porsche Cayenne and Panamera, as well as some of the Audi S and RS models, the A8, the Bentley Continental V8 and the Flying Spur V8.
The Urus accelerates from 0 to 62 mph (100 km/h) in 3.6 seconds and reaches a top speed of 190 mph (306 km/h). The EPA fuel economy is rated at 14 mpg‑US (16.8 L/100 km; 16.8 mpg‑imp) combined (city and highway), 12 mpg‑US (19.6 L/100 km; 14.4 mpg‑imp) city, and 17 mpg‑US (13.8 L/100 km; 20.4 mpg‑imp) highway.