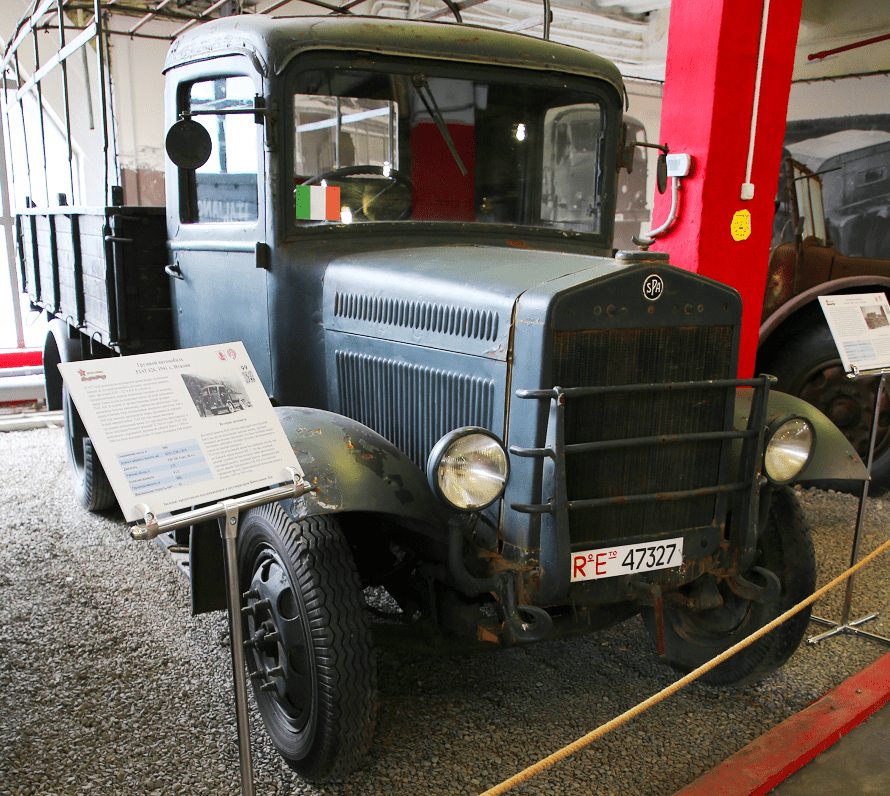 FIAT-SPA 38R. Dark green version
The Fiat-SPA 38R or just SPA 38R is a light military truck produced in Italy and used by Italy and France during the Second World War.
The 38R was born from the need of the Royal Army to replace the old SPA 25C truck. In 1933 Società Piemontese Automobili (SPA), a brand controlled by Fiat specialized in the production of trucks, presented two models, the water-cooled Fiat-SPA 38R and the air-cooled Fiat-SPA 36R. The two models were adopted by the Royal Army in 1935 and sent to Italian Libya in '37 and to Italian East Africa in '38, where off-road problems led to a redesign of the suspension. The debut of the SPA 38R in war took place in the Spanish Civil War with the Corpo Truppe Volontarie, where it was used as a troop transport and for towing the 65/17 Mod. 1908/1913 cannon and where it demonstrated its reliability and sturdiness at the expense of consume.
In the spring of 1940, France, as part of the rearmament in view of the imminent clash with Nazi Germany, ordered 500 specimens, 400 of which were actually delivered before Italy's declaration of war against France itself.
Production for the Royal Army continued throughout the war, in both the standard and Colonial versions and in numerous variants, some of which were also adopted by the Royal Air Force. Delivered before the war to the rapid and motorized divisions, it was used profitably on all fronts, especially on the Russian one.
After the war, production continued with the SPA 38R/45 version, both civil and military, characterized by a completely closed metal cab, electric start and a single tank.
Made in Italy in 1941
Engine: 6 cylinders
Power: 55 HP
Max. speed: 51 km/h
Load capacity: 2500 kg
Weight: 3200 kg