Transfiguration Cathedral (Russian: собор Преображения Господня всей гвардии, The Cathedral of the Lord's Transfiguration of all the Guards) is an Eastern Orthodox cathedral in St. Peterburg.
It is located on Transfiguration Square (Russian: Преображенская площадь), just off Liteyny Prospekt near the Chernyshevskaya metro station. Unlike most Russian churches, it has never ceased operating as a place of worship.
It was originally erected by order of Empress Elizaveta Petrovna in the period from 1743 to 1754 according to the project of architect Mikhail Zemtsov on the site of the headquarters of the grenadier company of the Life Guards Preobrazhensky Regiment in memory of the empress's accession to the throne with the help of soldiers and officers of this regiment.
The laying of the three-aisled cathedral took place on June 9, 1743. After the death of Mikhail Zemtsov, the construction was supervised by the architect Pietro Trezzini, who changed the project, making the Baroque cathedral five-domed.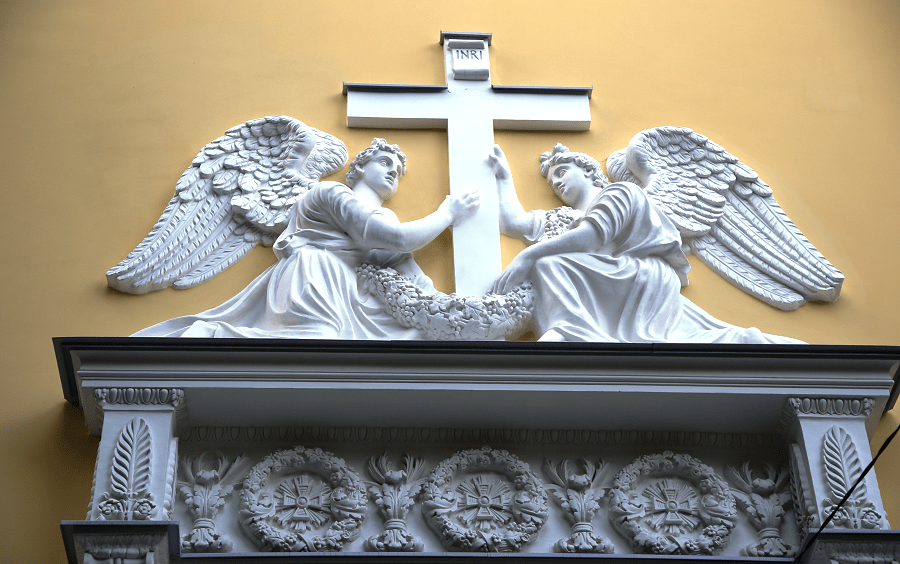 The area of the cathedral is 1180 m², the height is 41.5 meters. The facades of the main volume are decorated with twelve-meter four-column porticos of the Ionic order. The building is completed by a powerful light drum crowned with the main dome, in the corners there are four bell towers. There is a clock tower in the northwestern bell tower.
High semicircular windows are arranged in niches with balustrades and decorated with ornamental archivolts. The walls of the cathedral are also decorated with stucco panels with military attributes.
Working days: Mon, Tue 08:00–20:00; Wed 07:00–20:00; Thu 08:00–20:00; Fri 07:00–20:00; Sat 08:00–20:00; Sun 07:00–20:00
Address: Preobrazhenskaya Square, 1, St. Petersburg. Nearest metro: Chernyshevskaya, Mayakovskaya, Vosstaniya Square