Toyota Crown VII S120. White version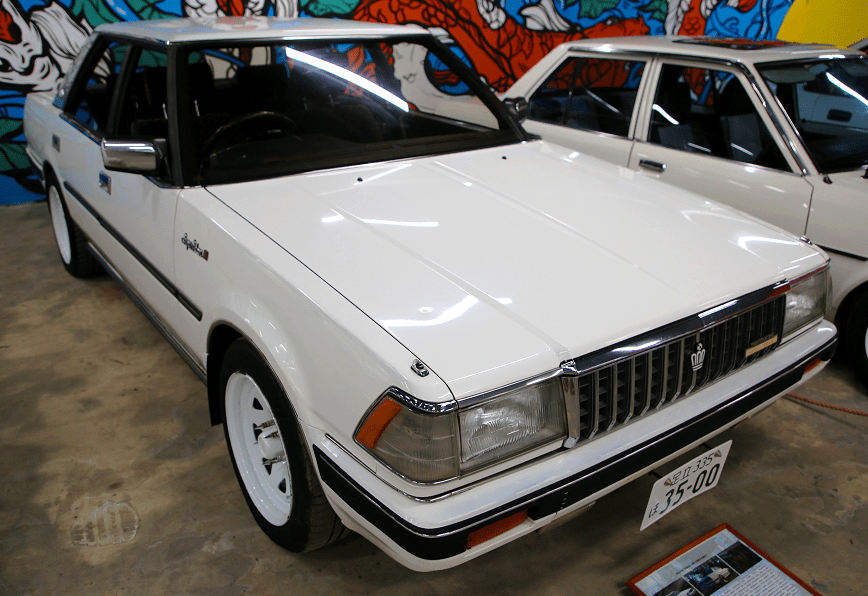 Launched in 1983, this model used all three versions of the 5M 2.8L engine: the carburetted 5M version, the single overhead cam (SOHC) multi-point fuel-injected 5M-E version, and the double overhead cam (DOHC) 5M-GE.
Other engines included the 1G-GE 2.0L DOHC, M-TE 2.0L single overhead cam (SOHC) Turbo, M-E 2.0L SOHC, 2L-TE 2.4L SOHC Turbo Diesel Ceramics Power or 2.4L SOHC Diesel Ceramics Power engines. All 2.0 L engines were installed with T-VIS (Toyota Variable Induction System). In September 1985, a supercharged version of the 2-liter G-series six replaced the turbocharged M-series.
Base versions use the new 2-liter 1G-E engine which replaced the old 2-liter version of the M series. The Japanese market "van" version of the station wagon (the GS126V as well as the GS136V in the following series) used its own unique variant of this motor which took advantage of laxer emissions standards for commercial vehicles (the 1G-EJ).
Made in Japan
Years of production: 1983-1987
Engine: 6 cylinders; 1988 cc
Power: 105 HP
Max speed: 180 km/h
0-100 km/h: 10 seconds
Fuel consumption: 12 l/100 km
Weight: 1480 kg