Hot hydrogen sulfide baths in the open air: Les Bains de Llo, East Pyrenees, France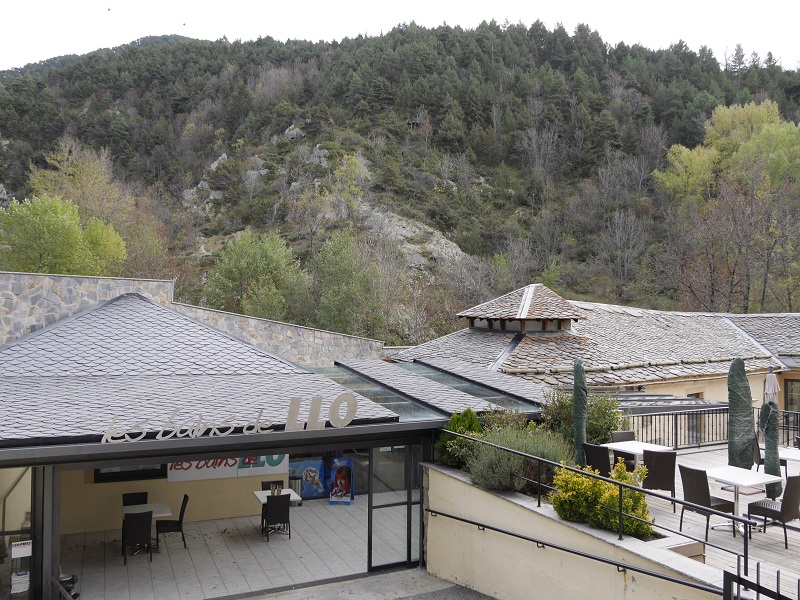 The thermal springs of Llo are located in Cerdanya, in the Eastern Pyrenees (Department N66), in the picturesque French village of Llo on the edge of the gorge of Segré. They are rich in hydrogen sulfide which activates the enzymes and hormones, accelerates blood circulation, prevents blood clots in vessels and also normalizes blood sugar, activates metabolic processes, improves metabolism in the heart muscle, increases oxygen consumption by organs and tissues, improves ventilation of the lungs and normalizes blood pressure.
Benefits:
Before using hydrogen sulfide baths there is a long list of precautions to take into account. Be sure to take into account the concentration of hydrogen sulfide, water temperature, duration of the procedure, the possibility of combining with other types of treatment, the number of baths per course and general health, especially the activity of the pathological process which is the main indication for the purpose of treatment.
Llo thermal waters are also rich in minerals that help relax the body and relieve rheumatic or muscle pain and are recommended for skin and hair care.
Recommendations
Skin diseases: dermatitis, dermatosis, psoriasis, eczema, neurodermatitis, scleroderma, scaly deprive;
Gynecological diseases: inflammatory chronic processes, obstruction of the fallopian tubes, insufficiency of ovarian function, menstrual disorders;
Urological diseases: chronic prostatitis;
Cardiovascular pathologies: hypertension, circulatory disorders, heart defects;
Diseases of bones and joints: arthritis, arthrosis, osteochondrosis, slow healing of bones after a fracture;
Endocrine pathologies: diabetes;
Neurological diseases: neuralgia, sciatica, post-traumatic conditions, paralysis and paresis of the spinal cord;
Conditions after suffering flu, tonsillitis;
Pediatrics: Cerebral Palsy, Condition After Birth Injuries.
Сontraindications
Hyperthermia;
The exacerbation of chronic pathology and the acute period of any disease;
Pregnancy;
Myoma, uterine fibroma and other gynecological diseases on the background of hyperestrogenism;
Tuberculosis;
Chronic diseases of the liver and biliary tract;
All kidney diseases;
Blood disorders;
Repeated myocardial infarction in history;
Bronchial asthma;
Tendency towards having allergic reactions.
Llo Baths include three open and two indoor pools, a hammam, a sauna, an ice shower and a relaxation room.
Visiting hours
Sulfur Hot Tubs: From 10:00 to 19:30. From 10:00 to 20:00 – mid-July, August and Christmas school holidays.
Spa treatments: from 09:30 to 12:30 and from 14:00 to 18:30
In 2019, the baths will be closed from May 13 to 17, inclusive.
What to do in the area?
The complex is a 30-minute drive from the ski resorts of the French town of Font-Romeu. Therefore, you can have a great time and relax after winter sports with the whole family.
The baths are also a great end to the day for hikers, mountain bikers and road bikers: here you can find a huge selection of routes.