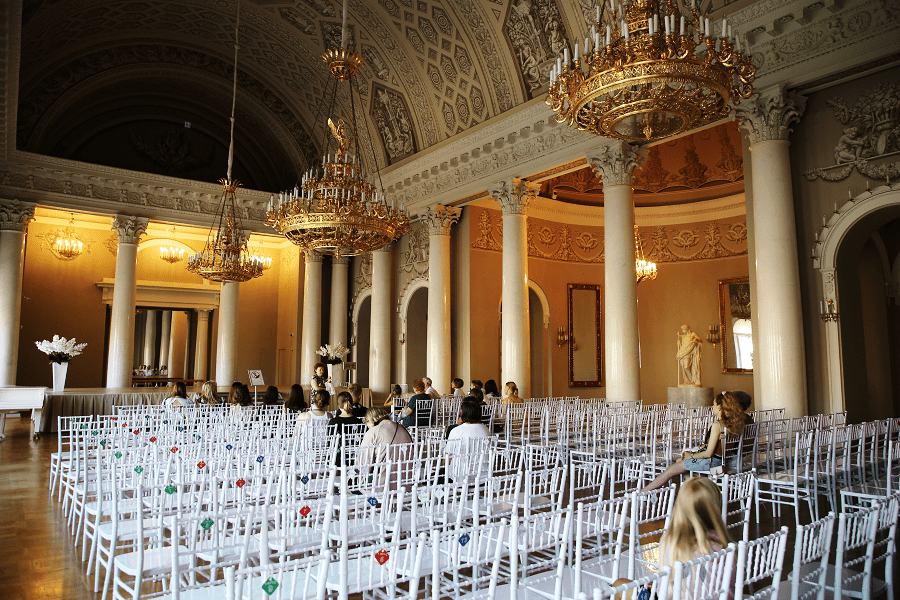 St. Petersburg is a cultural center of world importance, it is often called the "Cultural Capital" of Russia. The city has 8464 objects of cultural heritage, including more than 70 theatres.
There are several creative universities in St. Petersburg: the St. Petersburg Rimsky-Korsakov Conservatory, the Vaganova Academy of Russian Ballet, the Russian State Institute of Performing Arts.
In 2011, almost 1000 exhibitions, more than 120 premieres, almost 300 festivals were held in St. Petersburg, among them: the Mariinsky International Ballet Festival, the Stars of the White Nights International Arts Festival, the Arts Square International Winter Festival, International Ballet Festival "Dance Open", International Music Festival "Palaces of St. Petersburg", International Jazz Festival "White Night Swing", International Festival of Arts "From the Avant-Garde to the Present Day", International Film Festival "Festival of Festivals", International Biker Festival in Olgino , the international theatre festival "Baltic House", the international competition-festival of children's and youth creativity "Childhood Holiday".
From 1981 to the early 1990s, the Leningrad Rock Club operated in Leningrad, which marked the beginning of the legalization of the city's rock bands. The groups "Picnic", "Aquarium", "Zoo", "Myths" participated in the organization of the club, and later the groups "Auktyon", "Kino", "Alisa", "Pop-mechanics", "DDT" took part in its work , "Zero" and many others. Now the club-museum of Viktor Tsoi "Kamchatka" operates in the city, the singer's grave at the Theological Cemetery is a place of pilgrimage for his admirers.
On May 26, 2013, during the celebration of the 310th anniversary of the founding of the city, a mass performance of songs about St. Petersburg took place. 4335 people on St. Isaac's Square, accompanied by a symphony orchestra, sang 14 songs within an hour.
TOP 15 theatres and concert halls in St. Petersburg
Baltiysky Dom – a Russian state theatre
State Academic Bolshoi Drama Theater named after G. A. Tovstonogov
State Drama Theatre "Comedians"
State Drama Theatre "On Liteyny"
State Theatre of Musical Comedy