The white Jaguar XJS V12 Cabriolet from 1990, 5343 cc, max. speed 229 km/h
The Jaguar XJ-S (later called XJS) is a luxury grand tourer manufactured and marketed by British car manufacturer Jaguar Cars from 1975 to 1996, in coupé, fixed-profile and full convertible bodystyles. There were three distinct iterations, with a final production total of 115,413 units over 20 years and seven months.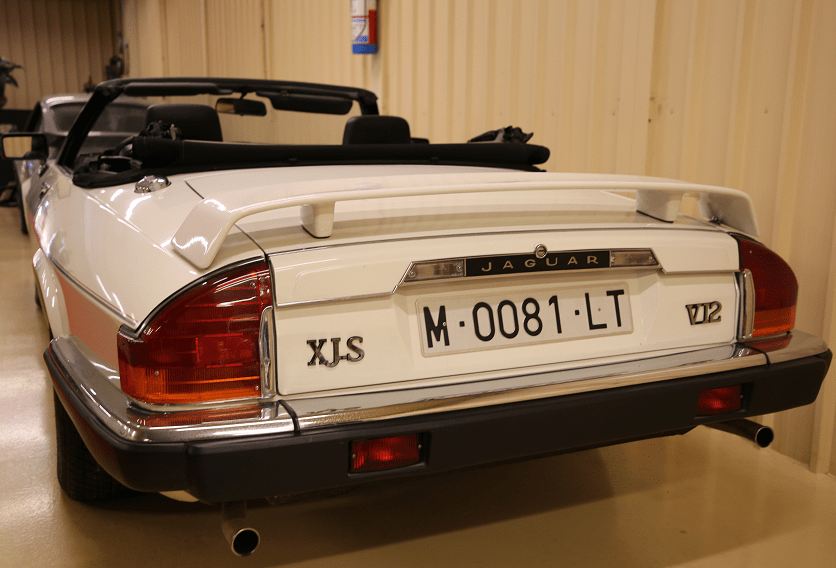 Originally developed using the platform of the then-current XJ saloon, the XJ-S was noted for its prominent rear buttresses. The early styling was partially by Jaguar's aerodynamicist Malcolm Sayer—one of the first designers to apply advanced aero principles to cars—however Sayer died in 1970, before the design was finalised.
Its final iteration, produced from 1991 to 1996, was manufactured after Jaguar was acquired by Ford, who introduced numerous modifications – and eliminated the hyphen in the name, marketing Jaguar's longest running model simply as the XJS.
HE (1981–1991)
From July 1981, the XJ-S was renamed the XJ-S HE and received the new High-Efficiency V12 engine for much better fuel economy. With the Fire Ball combustion chamber designed by Swiss Engineer Michael May, power output was increased as a by-product to 295 hp (220 kW; 299 PS) or 263 hp (196 kW) in North America. At the same time, the XJ-S HE received changes to its exterior and interior (body-coloured boot trim in place of the standard previous black, new five-spoke (starfish) alloy wheels fitted with 215/70R15 Pirelli Cinturato P5, chrome inserts on the upper part of the bumpers, burled elm inserts on dashboard and door cappings).
In 1983, the new 3.6-litre Jaguar AJ6 straight-six engine was introduced along with a new convertible model called the XJ-SC. The coupé's rather small rear seats were removed in order to make space for the removable soft top, making it a 2-seat car. The XJ-SC was not a full convertible but was a fixed profile variant with a non-removable centre targa-type structure, fixed cant rails above the doors, and fixed rear quarter windows. The six-cylinder cars can be identified by a raised bonnet center section.
Between 1983 and 1987, the six-cylinder-engined cars were only available with a five-speed manual transmission (Getrag 265), with a four-speed automatic (ZF 4HP22) offered from 1987 onwards (along with improved fuel injection as used on the XJ40). The earlier, manual models were not imported by Jaguar into the United States, which had to wait until the facelift manual 4-litre XJS coupé and convertible became available. A V12 powered XJ-SC was introduced in 1985.