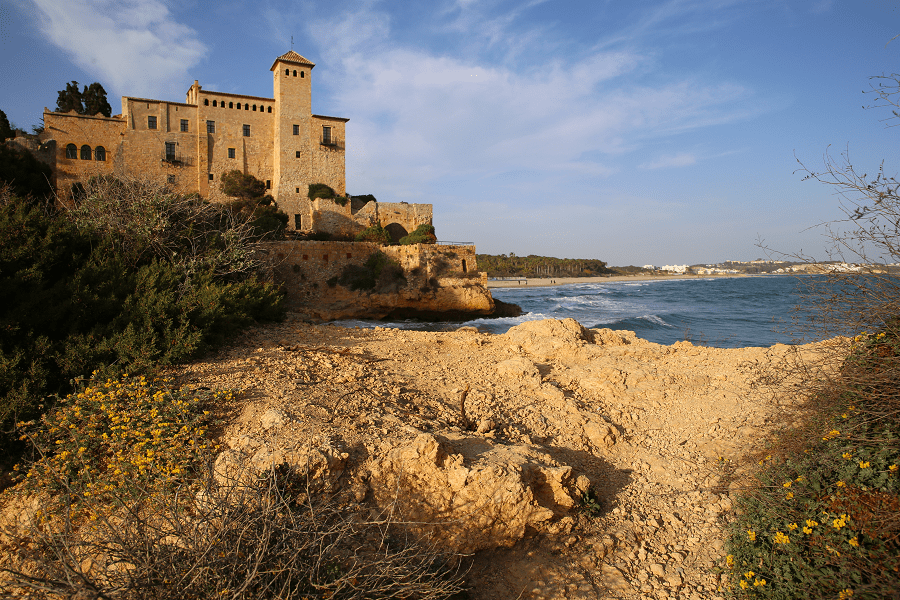 The Tamarit Castle (cat. Castell de Tamarit) is located on a promontory on the Mediterranean Sea, in the municipality of Tarragona, Catalonia, Spain. Its walls surround the closed village of the same name. The gated town and castle complex combines Romanesque, Gothic and Renaissance styles. An intervention from 1916 by its new owner Charles Deering, an American millionaire, who moved to Sitges thanks to the artist Ramon Casas, "standardized" the building.
Charles Deering was an American businessman, art collector, and philanthropist. He was an executive of the agricultural machinery company founded by his father that became International Harvester.
The old medieval city of Tamarit, an independent municipality until the middle of the 20th century, was divided into two sectors: the "village outside the walls", from which archaeological remains have survived, including a shipyard (in the Middle Ages, the port of Tamarit was one of the ten main port in Catalonia; ships went here to conquer Mallorca); and the "closed city", from which several stately houses have survived, called the "del castla", the abbey dependent on the Archbishopric of Tarragona, and the Romanesque church of the Assumption of the Most Holy Theotokos.
In the 11th century, Tamarit was the southernmost castle in the county of Barcelona.
Inside Tamarit Castle we find the remains of an old castle and a church, some houses and open spaces that surround the square and are surrounded by a wall. The square tower next to the church dates back to Romanesque times; some other buildings date from Romanesque and Gothic times, but many are later restorations.
Inside the castle is the Church of Santa Maria (cat. L'església de Santa Maria), one of the oldest parishes in Baix Gaia. Of all the buildings that make up the territory of the castle, with a square in the center and surrounded by a wall, stands out, starting from the Romanesque period, a large quadrangular tower located next to the church. It is made of medium-sized cut stone and has a square shape. It dates back to between the 12th and 13th centuries. The rest of the buildings are Gothic.
The castle is currently owned by the Betren community.
The castle is located at the southern end of the beach in Altafulla and 20 minutes by car from Tarragona.
GPS coordinates: 41 ° 07 ′ 48 ″ N, 1 ° 21 ′ 40 ″ E