The Sanctuary de la Mare de Déu de Lord (cat. El Santuari de la Mare de Déu de Lord) is a church declared a cultural asset of national interest of Sant Llorenç de Morunys (Solsonès, Catalonia, Spain, Pyrenees).
Description
It is a temple with one nave, covered with a barrel vault on transverse arches, and side chapels located between buttresses. The facade is of great simplicity, lacking ornamental elements, except for the oculus that illuminates the church. To the side it has the bell tower. The ornamentation is reduced to the main altarpiece, which houses the chamber of la Mare de Déu de Lord (cat. Our Lady of Lord), a wood carving that in its present state reveals a restoration that disfigured the original 13th century image.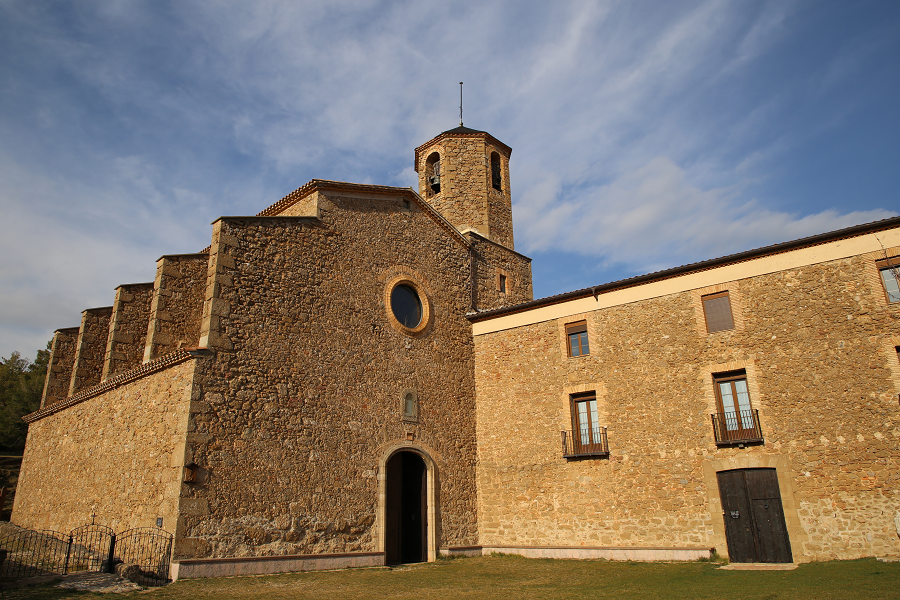 The altarpiece of 1901, of gilded wood, was done in Barcelona by the workshop of J. Riera Casanovas. Its structure corresponds to revivalist tendencies that drew from the Byzantine and Romanesque arts.
The walls of the presbytery were decorated with paintings by Lluís Masriera (1923). We should also mention a group of paintings, of mannerism descent, which should be restored and studied.
The church, which was reformed in 1901 after suffering a fire in 1891, has, annexed to it, a simple construction of rectangular floor plan, where the custodians of the sanctuary live.
History
The Sanctuary is located on a rocky ridge, in Mola de Lord, dominating the entire valley of Lord. Documented since the end of the 10th century as an ancient hermit center. In the 11th century, it became a dependence of the monastery of Sant Llorenç de Morunys. In the 15th century a church was built there, and between 1582 and 1634 a community of Dominican monks settled there.
The increase of its heritage assets led to the construction of a new temple between 1774 and 1785, which was devastated in 1836 during the Carlist war. The current building was built due to the initiative of the industrialist Esteve Monegal between 1867 and 1870.