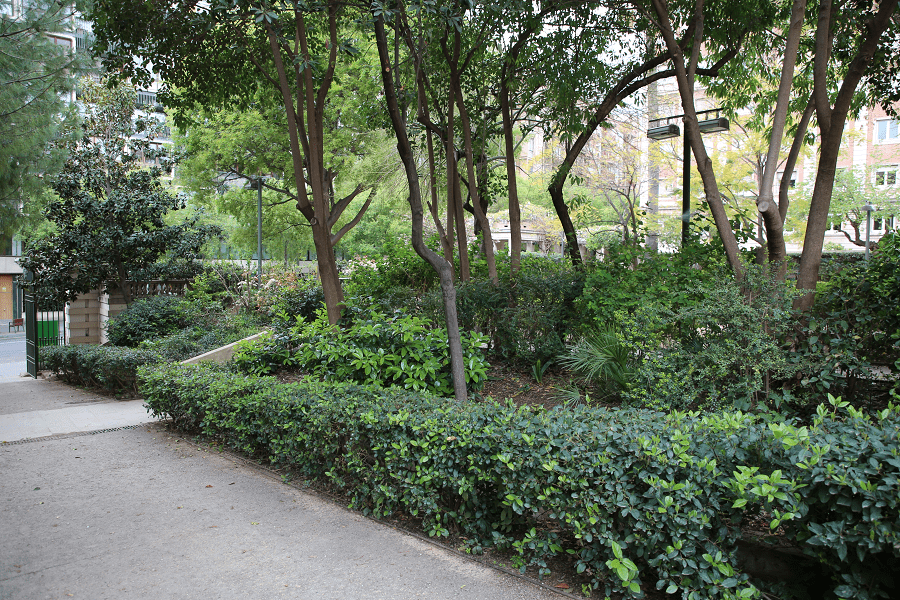 The complex of parks and gardens in Barcelona covers an area of ​​2 784 hectares. They are managed by the Municipal Institute for Parks and Gardens of Barcelona, ​​a dependent body of the Barcelona City Council. Since the 19th century, and especially in the 20th century, Barcelona has striven to adapt green spaces to the city, and today Barcelona is one of the European cities with the largest number of trees (150,000 units). In 2001, the Institute for Parks and Gardens received ISO 14001 certification in the conservation and management of green spaces and public roadside trees.
Gardening in Barcelona has evolved over time: the first important object, the Parc del Laberint d'Horta, dates back to the 18th century; in the 19th century, the first large public park in Barcelona was opened – the Citadel; but most of the city's green spaces date back to the twentieth century, when there was a great increase in community gardening in the Catalan capital.
In the last century, horticulture developed mainly in four stages: the first plans made by Leon Josseli in his connecting plan, and Nicolau Maria Rubio and Tuduri, the author of an ambitious plan for concentric green spaces along the entire length of the city, from Montjuïc to Besos; the post-war period meant a failure to create green spaces, mainly due to real estate speculation, which led to an increase in population due to immigration, as well as due to the priority of traffic caused by an increase in the car park; with the advent of democracy, there was a new impetus for creating garden spaces with a predominance of architectural design and a versatile sense of space, which added to the plant elements the services sector and recreational facilities for the population; Finally, towards the end of the century, a more natural trend emerged, more in line with new ideas of ecology and environmental sustainability, with a concern not only for parks and large green spaces, but also for the placement of trees in the streets and alleys of the city.
Depending on the characteristics, the parks and gardens of Barcelona are divided into several types: "historical", created before 1950, such as the Horta Labyrinth Park, the Citadel, Park Guell, the gardens of the University of Barcelona, ​​Park Laribala and the Royal Palace of Pedralbes; "Thematic" ones dedicated to specific plant species, such as the Cervantes Park for roses, the Mossen Costa y Llobera Gardens specializing in the cultivation of cacti and succulents, and the Mossen-Sinto Verdaguer Gardens dedicated to aquatic, bulbous and rhizomatous plants; "Urban" are the most common types of parks and gardens located in the city center and open to the public, with services and multipurpose spaces for recreation and relaxation; and "forest," wide green spaces usually found in the border areas of the city, such as the Collserola mountain range and Montjuïc mountain.
The Royal Palace of Pedralbes and its gardens