The Oliana reservoir belongs to the Segre river (Spain, Catalonia, Pyrenees). The dam is located between the municipalities of Oliana and Peramola, and the reservoir extends through the municipalities of Oliana, Peramola and Coll de Nargó, in the Alto Urgel region.
The reservoir was built by Fuerzas Hidroeléctricas del Segre.
The capacity of the reservoir is 101 hm³. The plant with an installed power of 42 MW produces 100 million kWh in normal years. Another purpose of the reservoir is to regulate the flow of the river and ensure the flow of the Canal de Urgel in summer. The channel emerges some 35 km downstream.
The construction project dates back to 1935, but the works did not begin until 1946, modifying the initial project. In 1953, a strong storm delayed the works, which were finished in 1956. The plant was officially inaugurated on June 30, 1959.
In order to increase the capacity of the reservoir, which is insufficient for the needs of the Urgell Canal, in 1999 the Rialb reservoir was inaugurated, leaving the towns of Peramola and Oliana between the two reservoirs.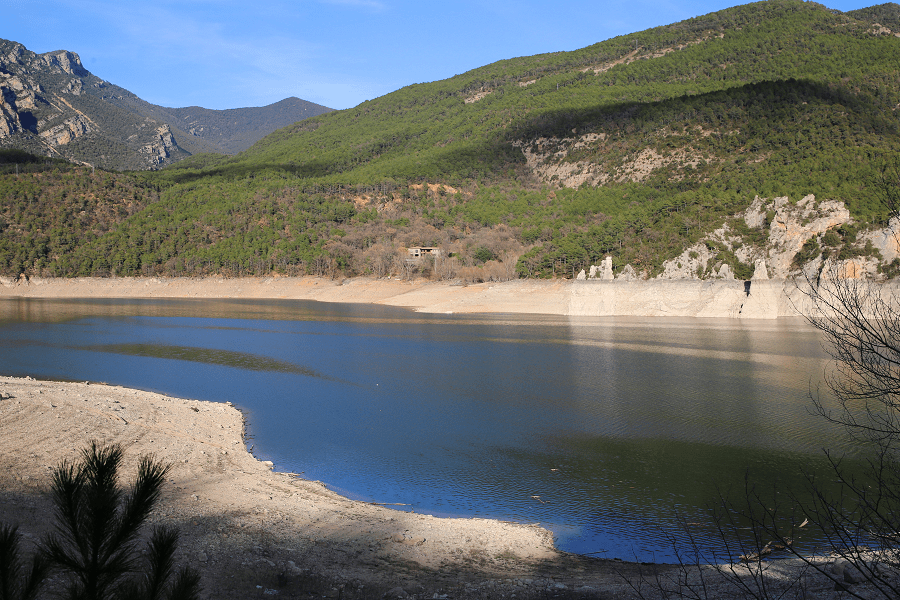 At the back of the reservoir there is an interesting wetland, called Cola del embalse de Oliana, with a surface area of about 50 hectares, formed in a meander in the swamp that receives the waters of the Perles river.