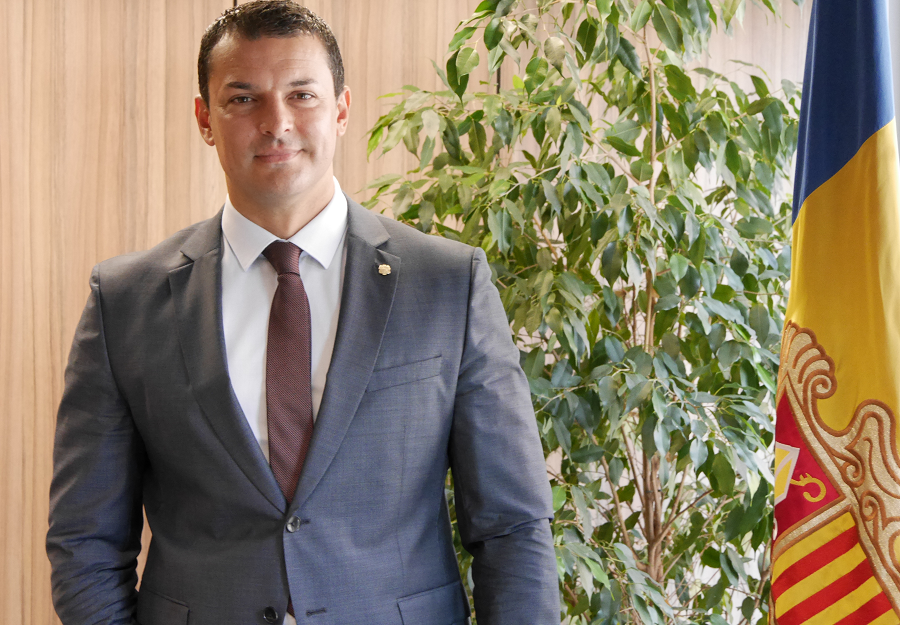 The Minister of Economy and Business of Andorra, Jordi Gallardo Fernandez talked to all-andorra.com about the new government's main projects. Among them were the construction of the airport in Andorra with a large capacity, the possible construction of a railway leading to Andorra from both France and Spain and reforming the banking system. He also believes that a mini-silicon valley can be created in Andorra which will become a place for the new development of high-tech products and research centre for scientists from around the world.
Interview: Irina Rybalchenko
Transport infrastructure
This June, an official presentation regarding the project to build an airport in Andorra took place and a positive answer was given to the question of whether it was possible to build an airport in the country. What is the status of the project now? And what is the official position of the government – do you support this idea?
Currently, we are still studying all the research prepared by the Chamber of Commerce. So we are in the initial steps. I can say that if we are able to have an airport inside the country it would be very good for our economy and tourism development. All Andorra's economic sectors are in favour of constructing the airport – it is evident. But there is no doubt that we have to analyze the environmental impact that this project can bring to our country. We have to balance all the possible negative impacts on ecology, the nature etc, with the economic benefits. Now, we are working on it.
Could you officially say that the Andorran government supports the airport project?
Yes. We believe it's a new, big opportunity for the country. But, once again, being a small country surrounded by mountains it is not very easy. Construction of an airport is a project requiring a very big investment. And we need investors and partners. But we will talk about the financial part of the project only when we make a final decision – how and where. Otherwise it would be a mistake.
When do you think this decision will be made? How much time do you need to carry out additional studies?
As quick as we can. By the middle of the next year, I hope. We are not under a lot of pressure.
There are some investors who have already demonstrated their interest in participating in this project: France, Russia, China… Will you invite partners to carry out additional studies?
Yes. We are ready to open this opportunity to high-level international specialists to achieve the best results. Being an Andorran government member, I can say that we will use all the ways that we can to bring more tourists to our country, to open our doors to the world and to put Andorra on the global map as a very attractive destination.
Obviously, if the airport has a carrying capacity of fewer than 1 million passengers per year, this project is not particularly profitable and is unlikely to be of interest to any investors. Do you agree?
I agree that it could be good to have a higher volume of passengers. The more passengers we have, the better it is for the country. So we are talking about a normal airport with normal aircraft, not about small ones.
Is Andorra ready to serve so many additional tourists?
Generally yes, Andorra is ready. Andorra has the capacity to accept 11 million tourists per year, there are no problems with increasing this number.
Which additional infrastructure will be needed for it? A railway, new hotels, new roads?
As for the railway – this is a subject we discussed with our neighbours. We prefer two options: railways from France and from Spain through Catalonia, connecting with Barcelona, Puigcerda, Cerdanya. It is not an alternative, this is an additional project.
I would like to highlight that the Andorran government has very serious plans related to infrastructure improvements. It's not the same situation as for the last 20 years when Andorra was discussing infrastructure projects and still doesn't have any of them.
It would be a good achievement if we can have a clear position on both projects by 2024.
Yes, but until that time does the Andorran government have plans to improve the road connections. Now, the only access to our country is by roads from Spain and France. Sometimes the traffic is terrible and people wait for hours to cross the border… 
Yes, sometimes we have to spend more time to cross the border between Spain and Andorra then to get to Andorra from Barcelona, it's true. And it's a fact that we need to develop our transport infrastructure.
About 15 years ago, the Spanish government built a perfect road from la Seu d'Urgell to Andorra, but now it's not enough and the border has to be expanded. Anyway, it has to be a common decision with the Spanish government and we are working on it.
Going back to the airport topic – that's why it is so important for our country.
Banking system
Andorran banks refuse to support client's international transactions if they are not private clients (meaning they do not have at least 400 thousand euros in their account). The Andorran government, in turn, has welcomed foreign investment for several years. I, personally, know several examples when foreign investors faced terrible bureaucratic problems when they were trying to open business accounts in Andorran banks (they needed to wait from 3 to 6 months to do so), and sometimes were forced to stop setting up their company in Andorra. At the same time, in other European countries, they didn't have any problems with compliance … What could you say about this?
Yes, I know about this problem. The Andorran government does welcome foreign investors but they face big obstacles here. To open a bank account in Andorra takes up to 6 months but in other countries, it takes two weeks maximum. On the other hand, our banking services are not as fast as international clients need. Several options are not available here in Andorra at all. So, unfortunately, investors often decide to leave our country.
We must improve the situation. This is the main target of the new government. In 2012 we changed our law to attract foreign investors but we were not sufficiently prepared to provide them with good administration services alongside.
Our banking system has to be more flexible. If a potential client has passed all the complaints procedures in other countries, Andorran banks don't need to double- thrice- or fourfold check them. It's absolutely not correct.
But does the Andorran government have any leverage on Andorran banks, given that they are all in private hands?
The Andorran government and Andorran banks have the same targets; we are all going in the same direction.
I can give you some examples for other countries like Great Britain, Luxemburg, Malta, Cyprus who have a strict complaints process, but they have more flexible systems and work much faster. The Andorran banking system has used these models. We will continue to discuss this with our banks.
Will you just be discussing? Or you will initiate some kind of banking reform to improve the quality of service?
We can't push them, but we can oversee things. Traditionally, the Andorran government has had a good relationship with the Andorran banks. The financial sector makes up about 17-20% of Andorran GDP. If we need new laws to regulate the situation, we will make them together.
Anyway, can you promise that the situation will be improved shortly?
Yes, you will see for those processes that depend on the Ministry of Economy.
Private banking is dying around the world. Well, not dying, but transforming into new high banking technologies. For the moment, Andorra cannot compete with the banking technologies of Switzerland, the USA and Asian countries. What do you suggest Andorran banks do in this case?
The Andorran banking system is also transforming – it's not the same as it used to be before. They have a niche in the market.
Investments and HT
What were the biggest investment projects Andorra had in the last 2-3 years? What was the volume of investments?
I will not tell you now about any big and serious projects. We built new roads, tunnels, schools, public buildings, and developed tourist infrastructure. We invested money in the projects that the country really needed.
Now it's time to talk about big investment projects. And now it's time to improve the quality of life here in Andorra.
We will focus on big infrastructure projects I have mentioned before, as well as projects for tourism, commerce and the economy… Any which can bring GDP really.
Within the framework of a possible rebranding of the country, known today as a country of cheap cigarettes and alcohol, it would be good to think about the diversification of the economy. What do you think about the possibility of creating a "mini-silicon valley" in Andorra and attracting scientists from all over the world to promote science and high technologies?
Possible diversification of our economy is a very good point. Inside the government we have a structure – Actua – which is responsible for it. We welcome high-tech companies and scientists. Andorra is a very good place for them, indeed. It's secure, small and comfortable. And why not? Andorra can be the silicon valley of the Pyrenees and southern Europe.
Are there any examples of new high-tech products produced in Andorra?
ActuaTEC, the Andorran government foundation which is focused on innovation project research and high-tech technology development in Andorra, have several IT projects close to the ski sector.
We have an agreement with MIT which brings us know-how. The most important one is a big database to aggregate huge amounts of information from various sources such as Andorra Telecom, FEDA, the University of Andorra, as well as retail shops, banks and so on. It will help to collect and structure information to later analyse it holistically.
Another joint project that is underway involves urban planning and analysing the dynamics of energy consumption.
Our target is to make projects together, not only use this know-how.
We regularly participate in international seminars and conferences. A month ago we went to Moscow, to Skolkovo, for example.
Shopping in Andorra
We receive regular e-mails from our readers telling us that shopping in Andorra has become much worse. Shops sell the same collections and prices are high. There are no luxury brands. Why?
It's a decision of the top-level brands. They don't think that Andorra is an interesting market for them. Andorra needs new kinds of tourists with bigger buying capabilities.
Our commerce sector is quite good. But I agree – we need a new business model. We need to integrate new technologies into our commercial sector.
Tourism in Andorra
The separation of Grandvalira ski resort would obviously lead to an outflow of tourists. How does Andorra plan to replace the income?
We have some good news. Finally, this problem was solved. Grandvalira's shareholders will stay together. There are no plans to divide the ski resort. So we will keep having one of the most important brand of all the Pyrenees.