The Lagunas de Ruidera Natural Park is a protected natural area and one of the great important wetlands located in the Ciudad Real province, the autonomous community of Castilla-La Mancha, Spain. The natural park is formed by a set of 16 river lagoons along the Guadiana Viejo valley, as a continuation of the Pinilla river due to its southeast influx, and due to its northeast influx along the Arroyo Alarconcillo; separated and connected to each other by barriers of tobaceous or travertine formation.
The protected area of the Lagunas de Ruidera Natural Park includes not only the lakes but also the tributary valley of San Pedro. UNESCO has included the natural park within the biosphere reserve Mancha Húmeda.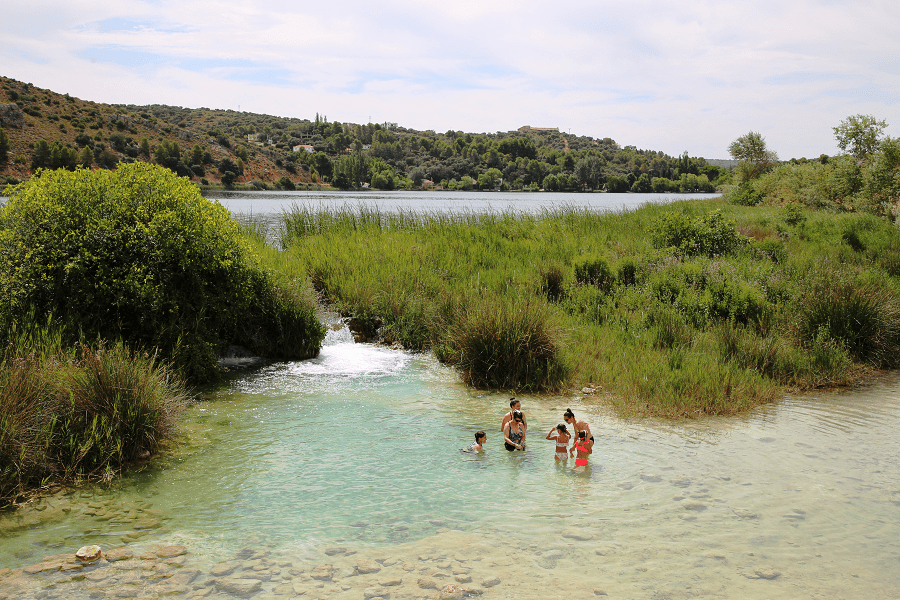 The difference in height between them makes the water flow through streams and waterfalls, from one lagoon to another. Although human work, the Peñarroya reservoir is also integrated into the park, due to its contribution to the management of water resources. These river lagoons, from the hydrological-structural point of view, are classified within the discharge hydro-wetlands.
The natural park is distributed between the municipalities of Argamasilla de Alba, Ruidera, Alhambra (without lagoons), Ossa de Montiel and Villahermosa. Within the limits of the park are also the Peñarroya castle, the ruins of the Rochafrida castle, the Montesinos cave where Cervantes made Don Quixote spend a night and the King's house in the town of Ruidera.
A part of the Don Quixote Route.
The largest lakes are Laguna Colgada and Laguna del Rey. The area near the lakes is a tourist site, with small hotels, restaurants, camping sites and private villas, located mostly in or around Ruidera town.
How to get to Ruidera?
From Ciudad Real 1 hr 10 min (108 km) via A-43 and N-430
From Almagro 1 hr 11 min (84.8 km) via CM-4124 and N-430
From Valdepeñas 47 min (62.1 km) via CM-3109 and N-430
From Madrid 2 hr 41 min (238 km) via A-4