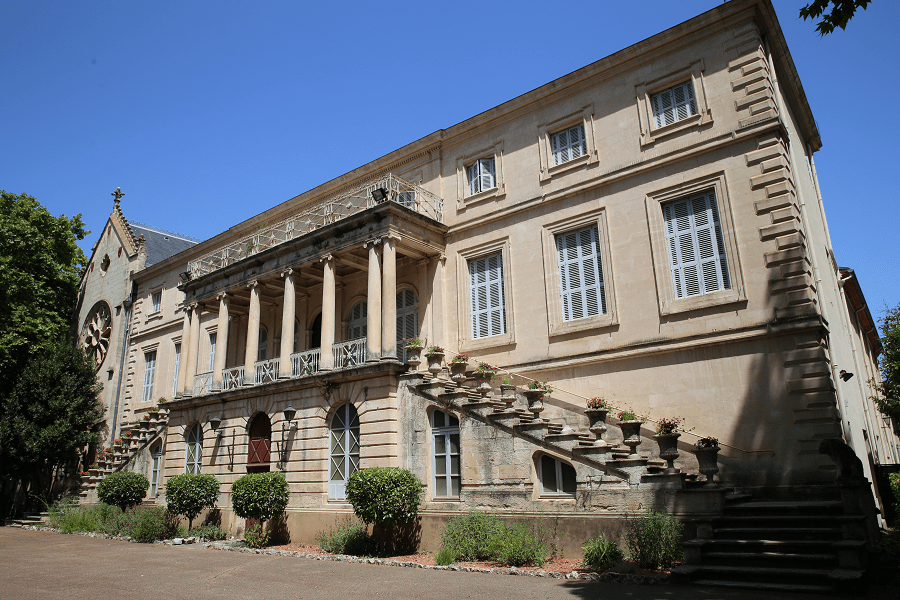 The Grammont castle (fr. Château de Grammont) located in Montpellier. In the 13th century, the Montaut family built a fortified castle in a fief belonging to Simon de Montfort, who led the Crusade against the Cathars.
The domain of Grammont was first the seat of a priory under the Order of Grandmont. In 1174, the Grandmontains settled on an area dependent on the cathedral chapter of Maguelone.
During the wars of religion, the priory was partially ruined. In 1701, it was given to the Montpellier seminary, then sold as national property in 1790 and transformed into wine property.
The West wing was rebuilt at the beginning of the nineteenth century. The chapel was rebuilt between 1895 and 1897 on the site of the previous one by the diocesan architect Pierre Arribat. Auguste Baussan made the sculptures, and Louis-Charles-et-Marie Champigneulle signed the stained-glass windows.
The chapel of the estate, called Sainte-Philothée chapel, is currently used for the exercise of Orthodox Christian worship, part of the Orthodox Church of Constantinople.
Marcelle and Roger Dichamp bought the château in 1961 and restored its original lustre with interior design inspired by the 1970s.
90 hectares of cedar forest, groves dotted with lush Mediterranean vegetation and vast flowery meadows make this area one of the largest natural spaces in the city.
The estate remains isolated from urbanization thanks to the presence of several other wine estates, including the "follies" of the Château de Flaugergues and Montaubérou. Due to its prestigious setting, the estate serves as an annex town hall for civil wedding ceremonies.
Coordinates: 43.6158 N, 3.9302 E