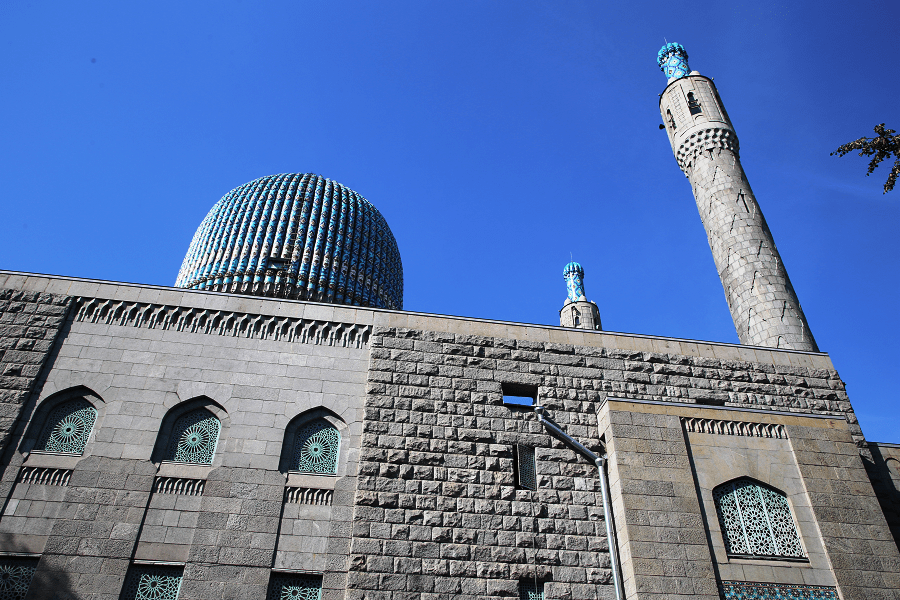 The Cathedral Mosque of St. Petersburg is an Islamic religious building in Petrograd district, St. Petersburg. It is an architectural monument, northern modern style. The main mosque of the Russian Empire, the largest mosque in the European part of the Russian Empire.
The mosque is located at the corner of Kronverksky Prospekt and Konnoy Lane (near the Gorkovskaya metro station).
Construction: 1909-1920
length – 45 m
width – 32 m
height of the main dome – 39 m
number of minarets – 2
the height of the minarets is 48 m
capacity – 5000 people
The 1st floor of the mosque is for men. At the end of the main hall, on the left side, there is a place for women to pray on weekdays.
The 2nd floor of the mosque is for women and has two entrances (from the main hall and from the street). In fact, this is a mezzanine (a mezzanine built into the volume of the main floor).
A wide marble staircase leads to the 3rd floor of the mosque. In fact, this is also a mezzanine built on three sides of the volume of the main hall. On Fridays and holidays – a place for men to pray. On general weekends, there are free classes in the basics of Islam and the Arabic language.
The entrance to the mosque is from the courtyard.
Details of the decoration of the mosque are made according to the drawings of the artist L. Maksimov, who specially went to Samarkand to make copies of the ornament of the Shah-Zinde and Gur-Emir mosques.
Address: St. Petersburg, Kronverksky prospect, 7