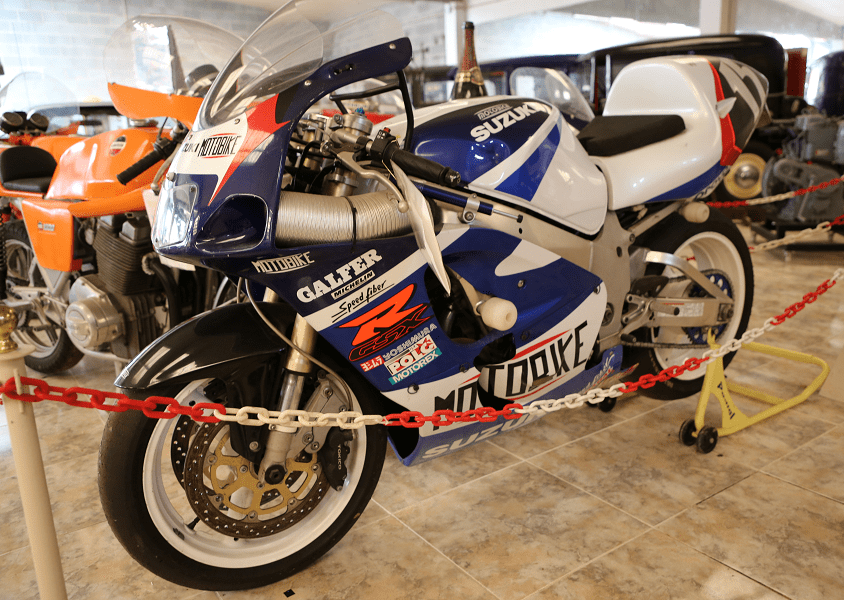 Suzuki GSX R750 Y 2000 from 1999, four cylinders, 749 cc, 141 HP, six speeds
The Suzuki GSX-R750 is a sports motorcycle made by Suzuki since 1985. It was introduced at the Cologne Motorcycle Show in October 1984 as a motorcycle of the GSX-R series.
GSX-R750 Y 2000
All New Model covering 1999 through 2003 -Lighter Stronger Faster: Sometimes called superman bike because of headlight shape.
Engine: Much smaller yet stronger motor, upgraded fuel injection with improved fueling correction for barometric pressure/altitude, redesigned narrower cylinder head with straighter intake tracts, bigger air box, better ram air, stainless steel 4 into 1 exhaust, lighter stronger engine components, and covers. Body: More aerodynamic bodywork, smaller frontal area, redesigned instrument cluster, new LCD information (odometer, coolant temperature, clock).
Frame: New re-designed twin spar frame, extended swingarm, lighter front brakes to reduce unsprung mass, lighter cast wheels to reduce rotating mass.