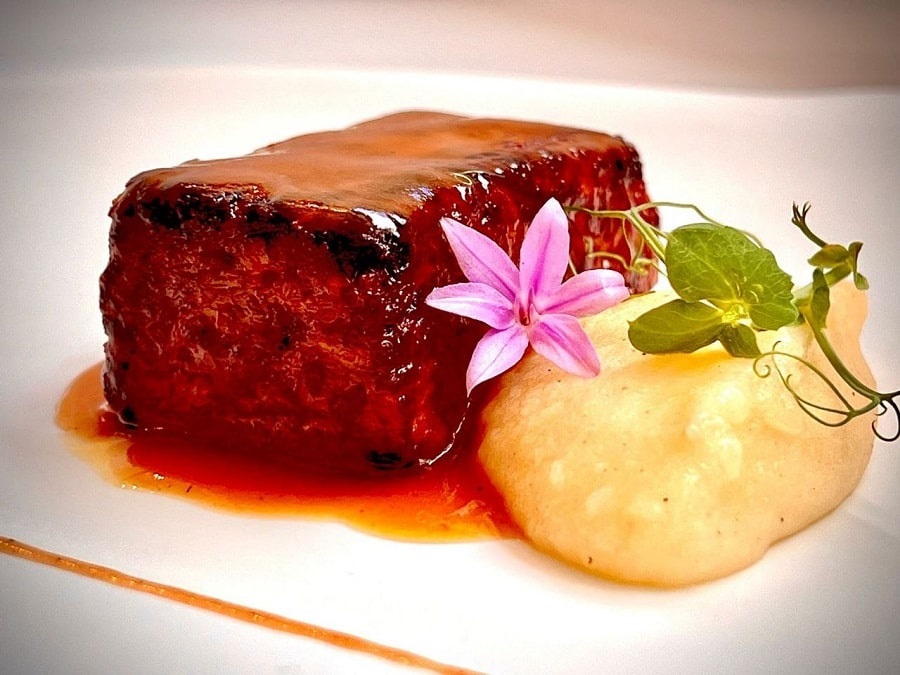 This is a special autumn dish that will also be honoured at the Andorra Taste gastronomic event in September, which you can all enjoy.
It's a dish that perfectly characterises the restaurant. The main product, lamb (from the local Pallars Sobirà race) is raised with the utmost care. It's one of the restaurant's emblematic dishes, and has been with us since we opened in August 2022.
The lamb arrives fresh, we salt it and leave it to marinate overnight. The next day, we smoke it for 4 or 5 hours in our Josper oven, adding a small wet branch to prevent it from burning.
Once it has reached the desired stage of smoking, we vacuum-pack it with vegetables, carrots, onions, bay leaves, cloves, oil and the juices from the lamb itself, and leave it in another oven at 65 degrees for 15 hours – this is where our cooking secret lies.
The meat becomes tender without losing its juices. Thanks to this method, we keep the meat soft, because the gelatine remains inside the piece.
The next day, we separate the vegetables and the juice that has been extracted from them, and then reduce them until we have a sauce.
We crumble the rest of the meat, press it, and give it this ingot shape.
The fact that it's actually served 'ready to eat' is a detail for the customer – just cut it up and eat it. We recommend accompanying it with a purée of Andorran truffles, which is lighter and brings out the flavour of the meat.
As an accompaniment, we often suggest Balcón de Pilatos. This is a wine made from 100% Maturana – a local Rioja grape variety that was on the verge of extinction and was successfully reintroduced a few years ago by winemakers— it's a structured wine that elegantly blends fruit with woody flavours brought on by 11 months' aging in American oak barrels.
And to finish the dish, a light dessert to fill us up and give us the feeling that we've done everything right: our pineapple and coconut ravioli!
The perfect combination of the power of lamb and the freshness of ravioli.
As they say, it can be explained, but it´s much better to taste it…
We are waiting for you at Beç Restaurant…
Address: Carrer Coprincep François Mitterrand, 2, AD700 Escaldes-Engordany.
Reservations: +376 828 667, [email protected]
@bec_restaurant