Singer House, also widely known as the House of the Book, is a historic building in Saint Petersburg, Russia. It is located at the intersection of Nevsky Prospekt and the Griboyedov Canal, directly opposite the Kazan Cathedral.
It is recognized as a historical landmark and has official status as an object of Russian cultural heritage.
The building was constructed by the leading Petersburg architect of the time, Pavel Suzor. The construction was completed in 1904.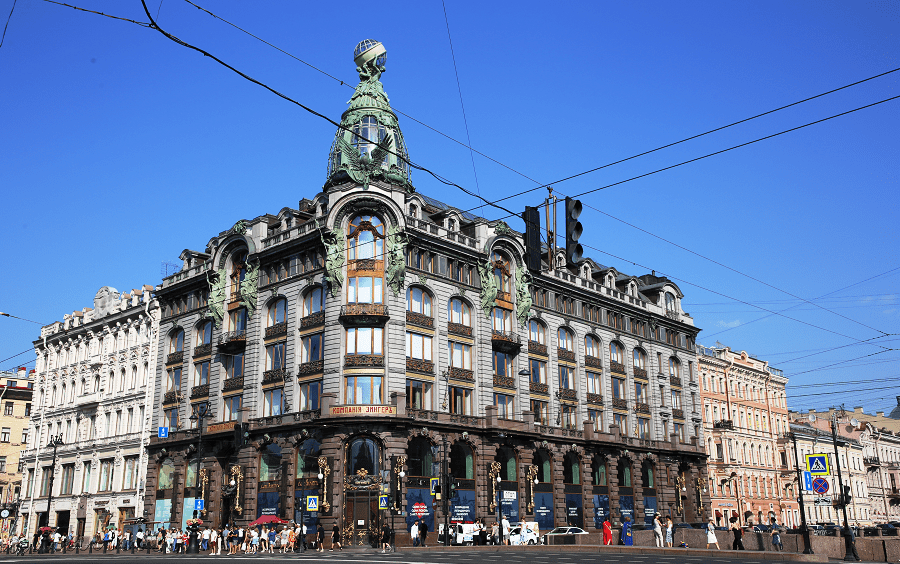 Until the revolution, the building housed the headquarters of the Russian representative office of Singer and various tenant offices. In 1919, the building was nationalized, the Petrogosizdat store, branches of various publishing houses and editorial offices of newspapers and magazines were transferred to it, the whole wing was occupied by the state censorship committee. The name "House of the Book" was among the locals, who had been working in the building since 1938.
Singer Corporation is an American manufacturer of consumer sewing machines, first established as I. M. Singer & Co. in 1851 by Isaac M. Singer with New York lawyer Edward C. Clark. Best known for its sewing machines, it was renamed Singer Manufacturing Company in 1865, then the Singer Company in 1963.