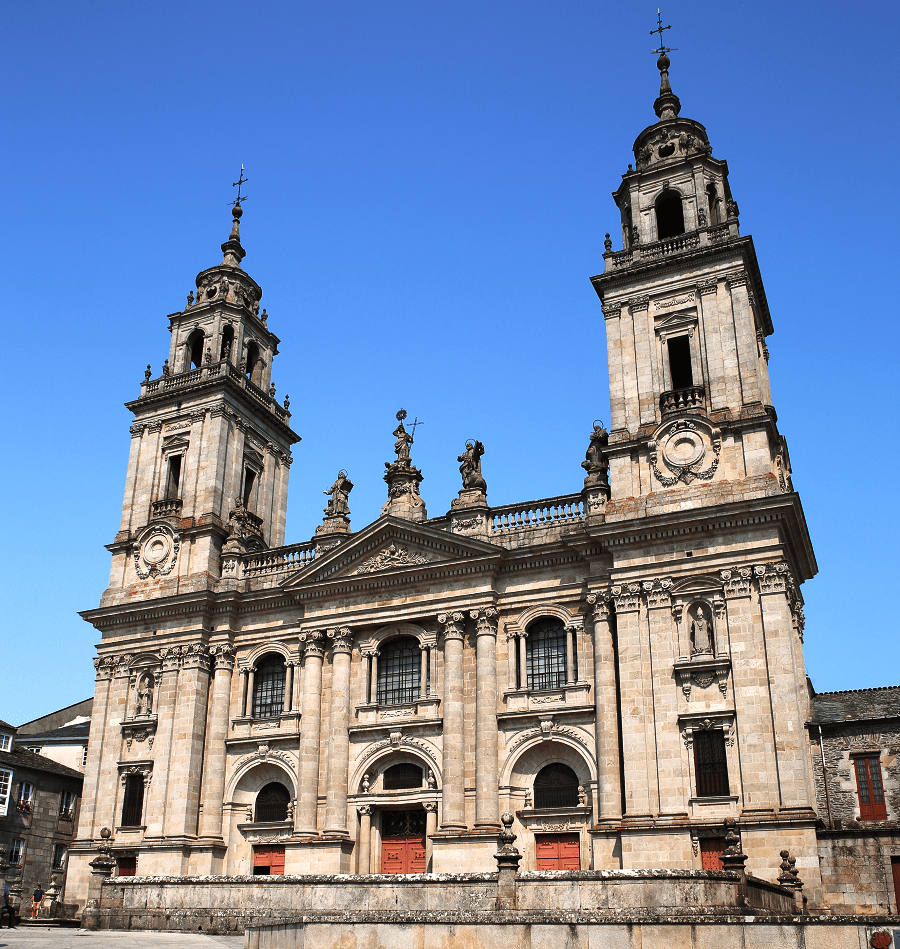 Saint Mary's Cathedral (La catedral de Santa María de Lugo), better known as Lugo Cathedral, is a Roman Catholic church and basilica in Lugo, Galicia, north-western Spain.
The cathedral was erected in the early 12th century in a Romanesque style, with Gothic, Baroque and Neoclassicist elements.
It is a World Heritage Site since 2015, declared by UNESCO.
The cathedral received from the Pope the privilege to permanently expose the Holy Sacrament. This fact makes Lugo known as the city of Sacramento.
The vertical walls and vault of the transept nave are Romanesque, as are most of the main nave, sides and clerestory, whose vaults were redone in the 18th century.
The first body of the main chapel and the ambulatory with its attached apsidal chapels (1320-1360) belong to the Gothic, except the central one, as well as the old ones of Santo Domingo de los Reyes (1370) and San Froilán (1480).
The second body of the main chapel and the current chapel of San Froilán are Renaissance; To the Baroque belong the sacristy (1678), the chapter house and its surroundings (1683), the cloister (1714) and the central chapel of the ambulatory, called the Big Eyes (1726).
The main façade, for its part, corresponds to a project in the neoclassical style of the late 18th century, whose author was Julián Sánchez Bort. The completion of the façade took place at the end of the 19th century, with the finishing of the two towers. These correspond to a design by Nemesio Cobreros inspired by the original project by Sánchez Bort.
Working hours
Thursday
10AM–7PM
Friday
10AM–7PM
Saturday
10AM–7PM
Sunday
Closed
Monday
10AM–7PM
Tuesday
10AM–7PM
Wednesday
10AM–7PM
How to get to?
By car:
From Santiago de Compostela 1 hr 31 min (104 km) via N-547 and A-54
From Madrid 4 hr 52 min (502 km) via A-6
Address: Plaza Pío XII, 27001 Lugo, Spain