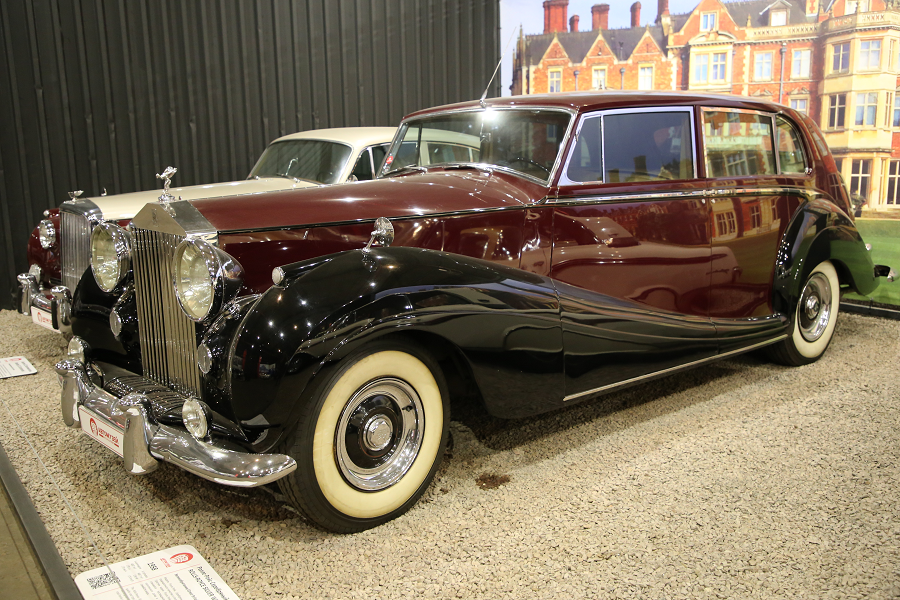 Rolls-Royce Silver Wraith from 1958. 6 cylinders, 4.9 L, 178 HP, 170 km/h in Moscow
The Silver Wraith was the first post-war Rolls-Royce. It was made from 1946 to 1958 as only a chassis at the company's Crewe factory, its former Merlin engine plant, alongside the shorter Bentley Mark VI. The Bentley was also available as a chassis for coachbuilders, but for the first time could be bought with a Rolls-Royce built Standard Steel body.
It was announced by Rolls-Royce in April 1946 as the 25/30 hp replacement for the 1939 Wraith in what had been their 20 hp and 20/25 hp market sector, that is to say Rolls-Royce's smaller car. The size was chosen to be in keeping with the mood of post-war austerity. Even very limited production of the chassis of the larger car, the Phantom IV, was not resumed until 1950 and then, officially, only for Heads of State.
Improvements announced were: chromium-plated cylinder bores for the engine; a new more rigid chassis frame to go with new independent front suspension; and a new synchromesh gearbox. Chassis lubrication was now centralised.
The straight six-cylinder postwar engine, which had been briefly made for the aborted by war Bentley Mark V, replaced conventional overhead valve gear with an F-head configuration of overhead inlet valves and side exhaust valves and reshaped combustion chambers. There were new main and big-end bearings and a more efficient drive to the timing gear. To this prewar mix Rolls-Royce added chromed bores. Initially, this engine retained the Mark V's capacity of 4,257 cc (259.8 cu in) increased from 1951 to 4,566 cc (278.6 cu in) and in 1955, after the introduction of the (standard wheelbase) Silver Cloud, to 4,887 cc (298.2 cu in) for the remaining Silver Wraiths.
The first cars had an entirely new 127 inch (3226 mm) wheelbase chassis which differed considerably from that of the pre-war Wraith and was much nearer rigid. It matched the new Bentley chassis but with an extra 7 inch section added to the centre. The new chassis had coil sprung independent front suspension, which required a very rigid chassis to function properly, and at the rear conventional semi-elliptic springs and live axle. The braking system was a hydro-mechanical hybrid of hydraulic fronts and mechanical rears using the mechanical servo similar to that of the pre-war cars.
The last short-wheelbase cars were delivered in November 1953. The long, 133 inch (3378 mm), wheelbase chassis was announced in 1951 and the first delivered in January 1952. 639 were made by the time of the last deliveries in October 1958.