Rolls-Royce Silver Shadow II from 1979, V8, 6750 cc, max. speed 225 km/h
The Rolls-Royce Silver Shadow is a full-sized luxury car produced by British automaker Rolls-Royce in various forms from 1965 to 1980. It was the first of the marque to use unitary body and chassis construction.
The Silver Shadow was produced from 1965 to 1976, and the Silver Shadow II from 1977 to 1980. To date, the combined model run of 30,057 units manufactured is the largest production volume of any Rolls-Royce model.
A Bentley-badged version, the T-series, was produced from 1965 through 1980 in 2,336 examples.
Silver Shadow II
In 1977, the model was renamed the Silver Shadow II in recognition of several major changes, most notably rack and pinion steering; modifications to the front suspension improved handling markedly.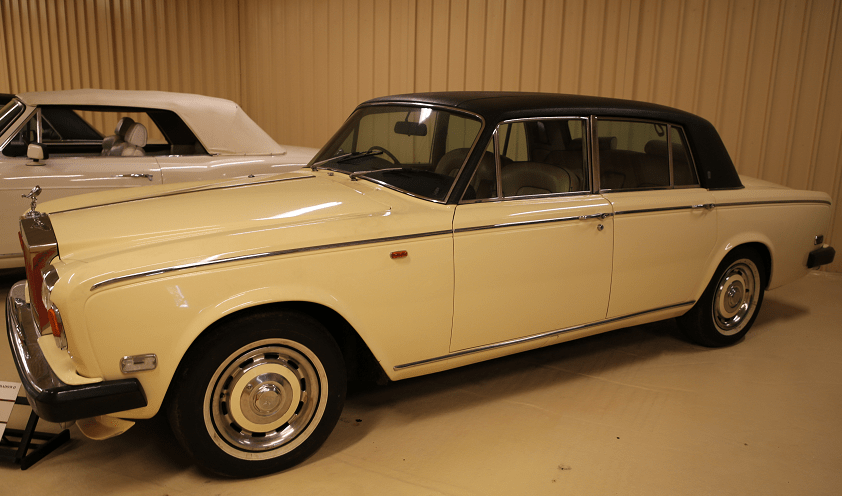 Externally, the bumpers were changed from chrome to alloy and rubber starting with the late 1976 Silver Shadows. These new energy-absorbing bumpers had been used in the United States since 1974, as a response to tightening safety standards there. Nonetheless, the bumpers on cars sold outside of North America were still solidly mounted and protruded 2 in (5 cm) less. Also now made standard across the board was the deletion of the small grilles mounted beneath the headlamps. Outside of North America, where tall kerbs and the like demanded more ground clearance, a front skirt was also fitted to the Silver Shadow II and its sister cars.
In 1979 75 Silver Shadow IIs were specially fitted to commemorate the 75th anniversary of the company with the original red "RR" badges front and rear, pewter/silver paint, grey leather with red piping, scarlet red carpets, and a silver commemorative placard on the inside of the glove box door. Thirty-three of these were designated for and shipped to the North American market.