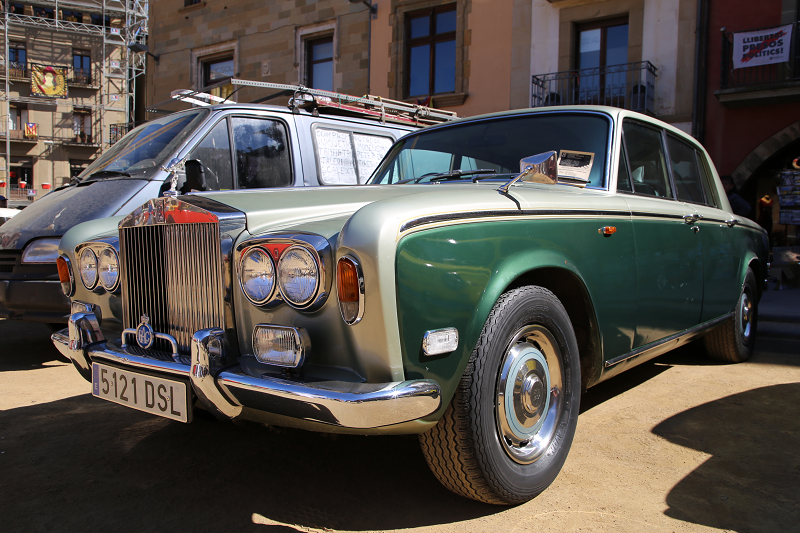 Rolls-Royce: Silver Shadow from 1970 in Catalonia (Spain)
The Silver Shadow was originally intended to be called Rolls-Royce Silver Mist, but was replaced with Silver Shadow at the last minute due to Mist meaning "manure" or "crap" in German. It was designed with several modernisations in response to concerns that the company was falling behind in automotive innovation, most notably in its unitary construction.
Style-wise, the John Polwhele Blatchley design was a major departure from its predecessor, the Silver Cloud. More than 50% of Silver Clouds had been sold on the domestic market where, by the standards of much of Europe and most of North America, roads were narrow and crowded.
The new Shadow was 3+1⁄2 inches (8.9 cm) narrower and 7 inches (18 cm) shorter than the Silver Cloud, but nevertheless managed to offer increased passenger and luggage space thanks to more efficient packaging made possible by unitary construction.
Other new features included disc brakes replacing drums, and independent rear suspension instead of the outdated live axle design of previous Rolls-Royce models.
The standard wheelbase Silver Shadow measured 203.5 inches (5,170 mm), 4,700 lb (2,100 kg) and had a book price of £6,557 in the first year of production.
The Shadow featured a 172 hp (128 kW) 6.2 L V8 from 1965 to 1969, and a 189 hp (141 kW) 6.75 L V8 from 1970 to 1980. Both powerplants were coupled to a General Motors-sourced Turbo Hydramatic 400 automatic gearbox, except on pre-1970 right-hand-drive models, which used the same 4-speed automatic gearbox as the Silver Cloud (also sourced from General Motors, the Hydramatic).
A distinctive feature was a high-pressure hydropneumatic suspension system licensed from Citroën, with dual-circuit braking and hydraulic self-levelling suspension. At first, both the front and rear of the car were controlled by the levelling system; the front levelling was deleted in 1969 as it had been determined that the rear levelling did almost all the work. Rolls-Royce achieved a high degree of ride quality with this arrangement.