Rolls-Royce Phantom VI "Flower Power". The Beatles' car from Malaga Museum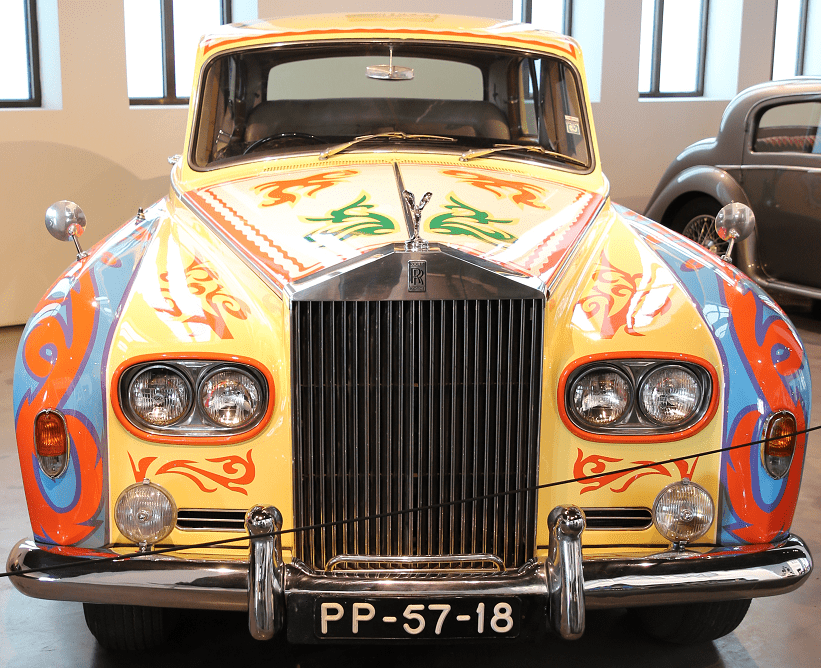 Made in UK
Date of issue: 1969
Engine: V8 and 6.200 cc
Power: 200 hp
The Rolls-Royce Phantom VI is a British limousine made from 1968 to 1990 by Rolls-Royce. A total of 374 Phantom VIs were made, of which fewer than 40 were manufactured in the last decade of production.
The exterior is almost identical to the facelifted Phantom V.
Most of the coachwork was created by Mulliner Park Ward, usually in limousine form, although a few landaulets were made.
The Phantom VI was the last Rolls-Royce with a separate chassis. It featured coil springs in front, leaf springs and live axle in rear, and drum brakes on all four wheels. The car was powered by a 6,230 cc (380 cu in) 90-degree V8 with a bore of 104 mm (4.1 in) and stroke of 91.5 mm (3.60 in) with twin SU carburettors, coupled to a 4-speed automatic gearbox. In a 1979 upgrade the engine capacity was increased to 6,750 cc (412 cu in), a 3-speed automatic gearbox with torque converter was substituted, and separate front and rear air conditioning units were provided.