Rochefort, also called Rochefort-sur-Mer, is a town in the southwest of France located in the department of Charente-Maritime (Nouvelle-Aquitaine region). Its inhabitants are called the Rochefortais and the Rochefortaises.
Rochefort is located in a loop of the Charente, entirely on the right bank, which places it in the former province of Aunis. It is a "new city" of the seventeenth century, which owes its creation in 1666 to the establishment of a maritime and military arsenal whose ambition was to make it the largest and most beautiful in the kingdom. From this prestigious past, Rochefort inherits one of the richest and most remarkable urban heritage of Charente-Maritime, which has earned it the status of a city of art and history. Since the departure of the French Navy, it has endeavoured to reconvert into a tourist town, thanks to its museums, lively cultural life and thermal spa (this spa has become the most important in central-western France).
Since its creation in 1666, Rochefort has always known a significant military presence. Indeed, the city was built to accommodate the first arsenal of the kingdom of France according to the will of King Louis XIV. Thus, the navy remained present in Rochefort until 2002, ie 336 years. Then at the beginning of the twentieth century, it was naval aviation that made its appearance, then the Air Force and a school of the National Gendarmerie.
Currently, Rochefort hosts two operational military sites: the gendarmerie school and the command of the national gendarmerie schools. A few kilometers south of Rochefort, the 721 air base hosts the training school for non-commissioned officers of the Air Force. In Rochefort, around 4,000 people (military and civilian) work for national defense.
The second industrial hub of Charente-Maritime whose economic activity is mainly stimulated by aeronautical construction and plastics, as well as by its still active commercial port on the Charente, Rochefort has also developed an administrative tertiary sector (sub-prefecture, judicial services, chamber of commerce and industry, education and vocational training) and is increasingly asserting itself as one of the main shopping centres in the department.
History
In December 1665, Rochefort was chosen by Jean-Baptiste Colbert as a place of "refuge, defence and supply" for the French Navy. The Arsenal de Rochefort served as a naval base and dockyard until it closed in 1926.
In September 1757, Rochefort was the target of an ambitious British raid during the Seven Years' War.
Another infrastructure of early Rochefort from 1766 was its bagne, a high-security penal colony involving hard labour. Bagnes were then common fixtures in military harbors and naval bases, such as Toulon or Brest, because they provided free labor. During the Jacobin period of the French Revolution (1790–95), over 800 Roman Catholic priests and other clergy who refused to take the anti-Papal oath of the "Civil Constitution of the Clergy" were put aboard a fleet of prison ships in Rochefort harbour, where most died due to inhumane conditions.
Tourism and main attractions
Rochefort is classified as a town of art and history. Today, the city is also visited for its thermal baths, operated since 1953. It is subject to a Zone of protection of architectural, urban and landscape heritage (ZPPAUP), decree of creation of the zone: 05/09/2005, and a protected Sector perimeter has been defined (Decree creating the sector: 13/11/2009).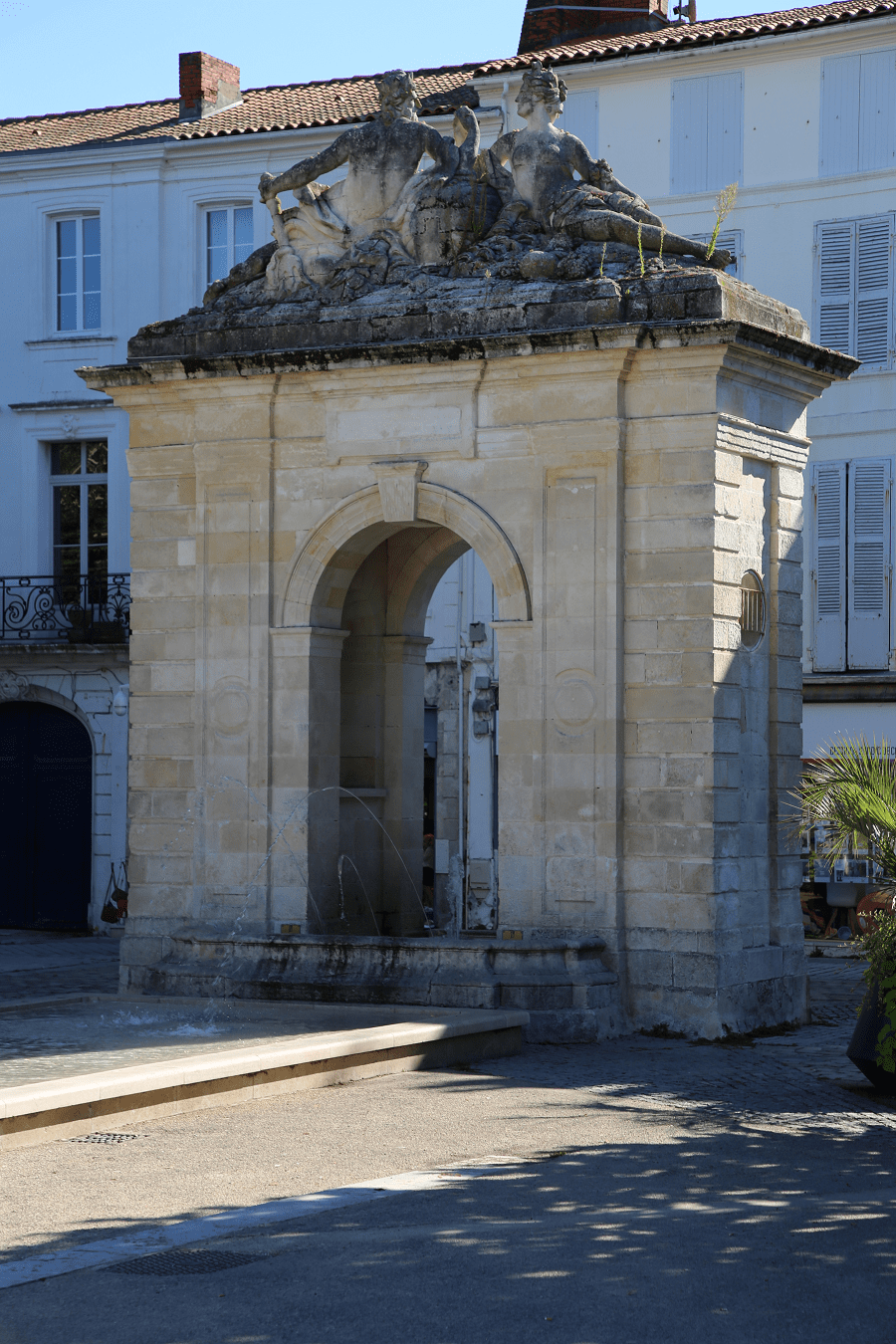 Monuments classified as historical monuments
Former Hôtel de Cheusses (naval museum) since January 19, 1932
Royal rope factory and annex buildings (water tower, fountain, guardhouse) since October 10, 1967
Martrou transporter bridge since April 30, 1976
Home of Pierre Loti since May 7, 1990
The naval commissariat on the food quay undergoing renovation
Monuments registered in the supplementary inventory of historic monuments (IMH)
Fountain at Place Colbert since February 23, 1925
Porte de l'Arsenal known as Porte du Soleil since June 11, 1928
Ramparts near the old Porte Martrou since May 30, 1930
Maritime hospital since September 14, 1965
Latouche-Tréville barracks since April 7, 1967
Municipal Theater of the Gold Cup since December 29, 1969
SNCF station since December 28, 1984
Saint-Louis de Rochefort Church since June 2, 1987
Formed Napoleon III since March 7, 1988.
Top 3 Places must see in Rochefort:
Arsenal, Royal Corderie, Charente Transport Bridge
Museums
Hèbre de Saint-Clément museum. Formerly called "Museum of Art and History", the Hèbre de Saint-Clément museum was closed since October 7, 2002 and reopened at the end of 2006 after its restructuring. The old 18th century mansion was destroyed except for the street facades which have been preserved. These works were carried out by the architect Pierre Louis Faloci.
National Maritime Museum. Transformed into a Maritime Museum in 1973, the Hôtel de Cheusses now houses the historical collections linked to shipbuilding: ship models, ornamental sculptures and precious objects.
The museum of naval aviation, located on the site of the former naval aeronautical base at Rochefort-Soubise (near the Gendarmerie school), is a museum which includes 35 airplanes, seaplanes, gliders, helicopters, engines and 1500 models.
Shopping
Shopping is not a priority on a tourist program.
But a few words about the Rochefort market. It is one of the most important in the region. It takes place every Tuesday morning, Thursday morning, and Saturday morning all year round.
It consists of two markets:
the open-air market, located on avenue Charles-de-Gaulle (with avenue La Fayette on Saturdays), stretches over 300 m in length and is home to a hundred merchants. with fruits and vegetables, flowers, cheeses …
the covered market, located in Les Halles – ground floor of the Palais des Congrès, is more particularly geared towards the catering trade. Fifty stalls offer seafood, meats and regional products.
A monthly fair takes place every 2nd Thursday of each month on the Jean-Louis Frot esplanade from 9 a.m. to 6 p.m.
Restaurants
There are no Michelin list restaurants in Rochefort.
Transport and how to get to?
Rochefort-Saint-Agnant airport is located 9 km south of Rochefort (via the D 733). It is a departmental airport managed by the General Council of Charente-Maritime. Rochefort-Saint-Agnant Airport mainly accommodates military, tourism and business aircrafts.
Railways
3 or 4 daily return connections by Intercity train: Nantes ⇔ La Rochelle ⇔ Bordeaux;
1 intercity train connection to / from Quimper;
1 connection by Intercités train to / from Toulouse / Nice;
5 daily connections by TER Nouvelle-Aquitaine La Rochelle ⇔ Rochefort ⇔ Saintes / Angoulême / Limoges;
9 daily connections run by TER Nouvelle-Aquitaine La Rochelle ⇔ Rochefort, by railcar X 73500
2 daily coach connections to Surgères TGV station to Poitiers / Tours / Paris-Montparnasse.
Shortest distance by car:
From La Rochelle: 39 min (35.7 km) via D137
From Le Château-d'Oléron: 36 min (33.7 km) via D123
From Saint-Palais-sur-Mer: 45 min (42.3 km) via D733
From Soulac-sur-Mer (ferry): 1 h 34 min (56.6 km) via D733
From Niort: 1 h 5 min (62.1 km) via D911
From Saintes: 38 min (47.0 km) via A837
From La Baule-Escoublac (tolls): 2 h 58 min (246 km) via A83
From Saint-Nazaire (tolls): 2 h 55 min (231 km) via A83
From Pornic (tolls): 2 h 39 min (211 km) via A83
From Les Sables-d'Olonne: 2 h 7 min (134 km) via D949
From Saint-Gilles-Croix-de-Vie (tolls): 2 h 20 min (159 km) via D948
From Noirmoutier-en-l'Île (tolls): 2 h 57 min (205 km) via D948
From Jard-sur-Mer: 1 h 46 min (113 km) via D949
From Nantes (tolls): 2 h 10 min (167 km) via A83
From Cognac: 1 h 5 min (77.1 km) via N141 and A837
From Angoulême: 1 h 38 min (124 km) via N141 and A837
From Arcachon (tolls): 2 h 22 min (223 km) via A10
From Biarritz (tolls): 3 h 41 min (356 km) via A63 and A10
From Bayonne (tolls): 3 h 27 min (342 km) via A63 and A10
From Dax (tolls): 3 h 11 min (304 km) via A63 and A10
From Saumur (tolls): 2 h 37 min (200 km) via D938
From Bordeaux (tolls): 1 h 48 min (157 km) via A10
From Toulouse (tolls): 3 h 55 min (395 km) via A62 and A10
From Carcassonne (tolls): 4 h 41 min (485 km) via A62
From Monaco (tolls): 9 h 6 min (975 km) via A62
From Nice (tolls): 8 h 52 min (952 km) via A62
From Cannes (tolls): 8 h 37 min (926 km) via A62
From Saint-Tropez (tolls): 8 h 35 min (898 km) via A62
From Marseille (tolls): 7 h 23 min (795 km) via A62
From Avignon (tolls): 6 h 38 min (722 km) via A62
From Montpellier (tolls): 5 h 56 min (634 km) via A62

From Béziers (tolls): 5 h 21 min (573 km) via A61 and A62

From Perpignan (tolls): 5 h 30 min (599 km) via A62
From Narbonne (tolls): 5 h 5 min (543 km) via A61 and A62
From Andorra (tolls): 6 h 5 min (575 km) via A62
Main information
Area: 22 sq. km
Population: 24 150
Languages: French
Currency: euro
Visa: Schengen
Time: Central European UTC +1
GPS coordinates: 45°56′32″N 0°57′32″W