The second stage of the 2019 ISMF World Cup in Andorra was dominated by a double victory of Italy in the Individual race. Robert Antonioli and Alba De Silvestro reached the top step of the podium, respectively with a time of 1h23'30" and 1h43'35".
In the ski area of ​​Arcalís, situated few kilometres above Ordino, a copious snowfall forced the Local Organising Committee to modify the original plans, opting for a new race course. After a first ascent, the competitors faced twice a spectacular and very beautiful circuit for the large audience present. The Senior Men category had a difference in height of 1700 metres, while the Senior Women and the Junior Men confronted 1500 metres in uphill and the same in downhill. Instead the Junior women competed on a route with 1010 metres of difference in altitude.
his new track has given rise to some hard-fought challenges. In the first ascent, the Swiss Werner Marti started immediately at full throttle and left Robert Antonioli (ITA) and Michele Boscacci (ITA) behind him. Then, at a later stage, the competitive battle was a two-way between the two Italian Robert Antonioli and Matteo Eydallin. The first has maintained the top position with strength and stubbornness preventing the race for the victory of Matteo Eydallin. The winner finished the contest with a time of 1h23'30". Behind him, with only 16 seconds of delay, Matteo Eydallin proved to have a timeless class. The French Xavier Gachet reached the third position of the podium with a time of 1h25'49", while in the fourth and fifth places arrived the Italian Davide Magnini (winner of the Espoir category) and the French William Bon Mardion.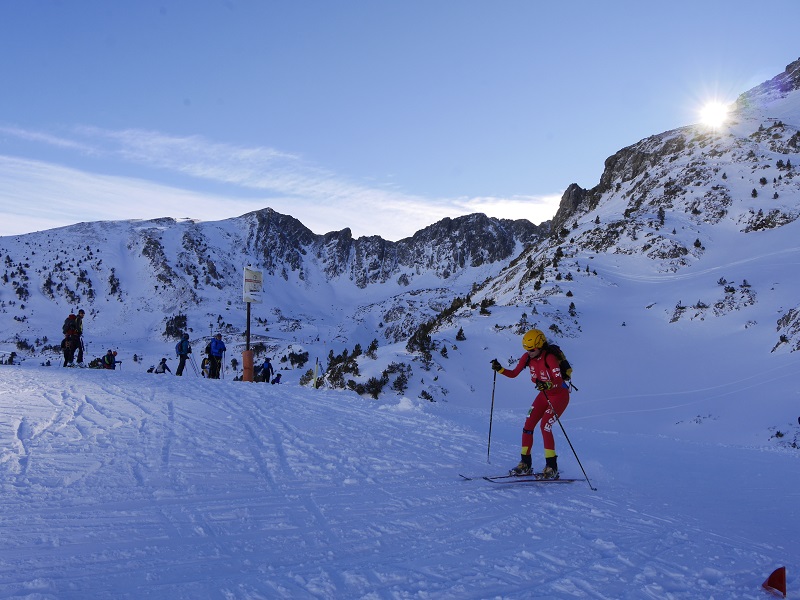 Among Senior Women Alba De Silvestro (ITA) crossed the finish line first with a time of 1h43'35". It was the first victory in a World Cup for her. The second place of the podium was for Claudia Galicia Cotrina (ESP) in 1h44'13" and the third for Lorna Bonnel (FRA), while Marianna Jagercikova (SVK) closed in fourth position and Victoria Kreuzer (SUI) in the fifth place. The Italian Giulia Murada won among the Espoirs Women. In the Junior category the Swiss Aurélien Gay (with a time of 1h30'53") was the leader, before the Italian Sebastien Guichardaz (2° place) and the Swiss Patrick Perreten (3° place). Among Junior Women Ekaterina Osichkina (RUS) won the race, followed by Emilie Farquet (SUI) and Samantha Bertolina (ITA).
After the Individual race, tomorrow will be the turn of the Vertical race in the ski resort of Arinsal.
Senior Men
1. Robert Antonioli (ITA)
2. Matteo Eydallin (ITA)
3. Xavier Gachet (FRA)
Senior Women
1. Alba De Silvestro (ITA)
2. Claudia Galicia Cotrina (ESP)
3. Lorna Bonnel (FRA)
Espoir Men
1. Davide Magnini (ITA)
2. Thibault Anselmet (FRA)
3. Maximilien Drion Du Chapois (BEL)
Espoir Women
1. Giulia Murada (ITA)
2. Lena Bonnel (FRA)
3. Julia Casanovas Cuairan (ESP)
Junior Men
1. Aurélien Gay (SUI)
2. Sebastien Guichardaz (ITA)
3. Patrick Perreten (SUI)
Junior Women
1. Ekaterina Osichkina (RUS)
2. Emilie Farquet (SUI)
3. Samantha Bertolina (ITA)