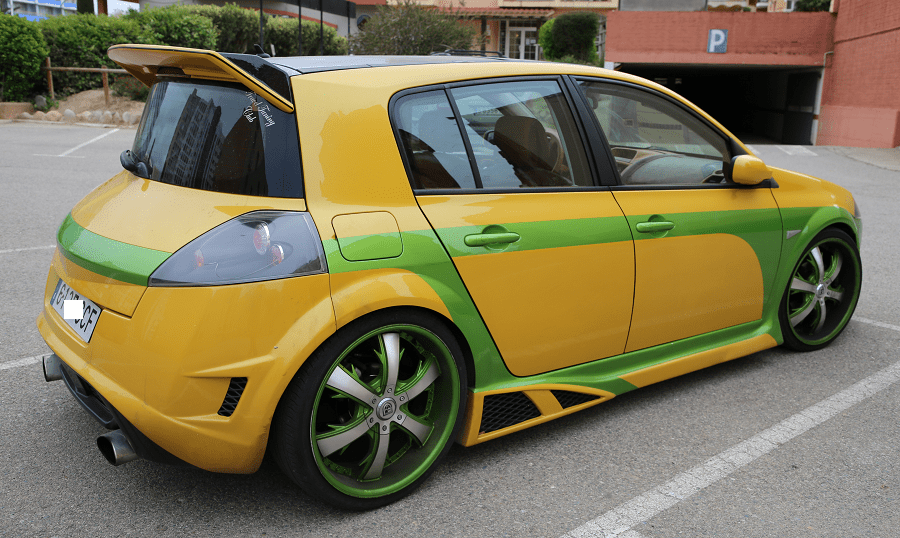 Modification (Engine) RS 2.0 Turbo 16V (224 Hp)
Start of production: 2004 year
End of production: 2005 year
Body type: Coupe, Seats 5, Doors 3
Acceleration 0 – 100 km/h – 6.5 sec, Acceleration 0 – 62 mph – 6.5 sec, Acceleration 0 – 60 mph – 6.2 sec
Maximum speed 236 km/h, 146.64 mph
Engine displacement 1998 cm3, Number of cylinders 4
The Renault Mégane, also spelled without the acute accent as Megane, especially in languages other than French, is a small family car produced by the French car manufacturer Renault for model year 1996, and was the successor to the Renault 19. The Mégane has been offered in three- and five-door hatchback, saloon, coupé, convertible and estate bodystyles at various points in its lifetime, and having been through four generations is now in its fifth incarnation.
Second generation (2002)
The Mégane II was launched in September 2002 for the 2003 model year, and marked a completely new fresh start.
The two cars bear very little resemblance, the new vehicle having been inspired by the manufacturer's new design language first seen in the Avantime.
The new Mégane was voted European Car of the Year for 2003, fighting off stiff competition from Japan's Mazda 6 and PSA's Citroën C3, and achieved a five star safety rating in the Euro NCAP crash tests, the first small family car to do so.
The Mégane II and the Laguna were both showcases for a great deal of innovative technologies Renault launched at the beginning of the 2000s; the Renault Card keyless ignition system, standard on the Mégane II, was a first in this class and has since been widely adopted.
Similarly, the option of a panoramic glass sunroof is another area in which Renault led where others followed. In June 2003, the first ever live crash test using a real driver rather than a crash test dummy featuring the Mégane II was conducted by Top Gear.[
Mégane RS
The RenaultSport (RS) versions of the three door and five door Mégane hatchbacks were introduced, equipped with a turbocharged petrol 2.0 L 16v engine producing 225 PS (165 kW; 222 hp) and Turbocharged diesel 2.0L dCi 16V engine producing 175 PS (129 kW;173 hp).
Along with the engine, changes were made to the front and rear suspension geometry to improve handling, and the model features a deeper, wider front bumper. The Mégane Renault Sport competes in the hot hatch segment of the market.