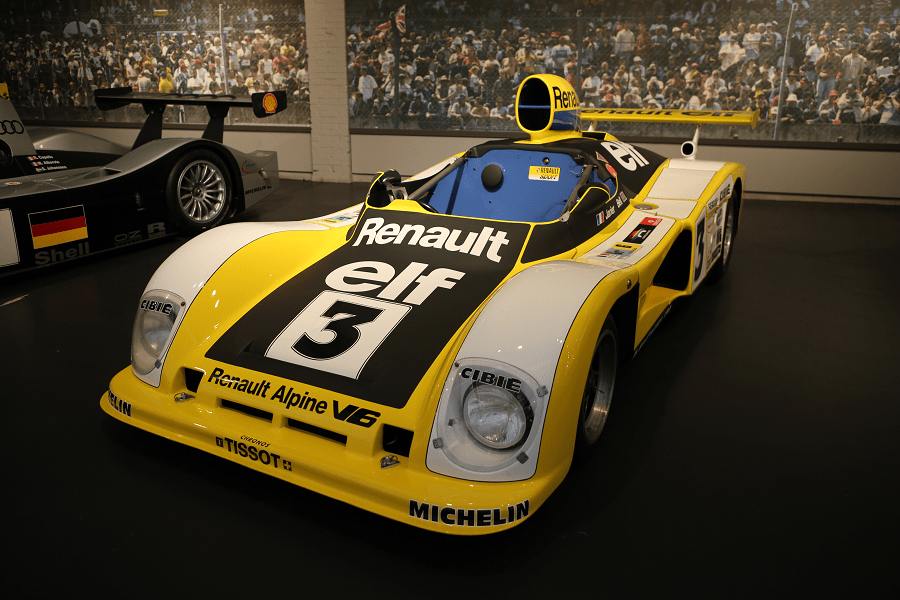 Renault Alpine A442 from 1978, six cylinders, 1996 cc, 500 HP, 352 km/h
The Renault Alpine A442 (also known as the Alpine Renault A442) is a sports prototype racing car, designed and built by Alpine, but funded and powered by Alpine's owners Renault, specifically to contest the 24 Hours of Le Mans race. Variants were entered for the event in 1976, 1977 and 1978.
An A442B finally won the race on the third occasion, in the hands of Didier Pironi and Jean-Pierre Jaussaud. Also entered in 1978 was the updated Renault Alpine A443 model; essentially an A442 chassis, but powered by a new 2138 cc engine. Following this all-French victory in the premier French motorsport event, Renault withdrew from sports car racing to concentrate their efforts in Formula One.
In full qualifying trim, with the bubble roof, the A443 achieved a top speed of 236 mph (380 km/h) on the Mulsanne Straight, making it the fastest car ever produced by Renault, a record which still stands today and includes all of Renault's F1 entries.