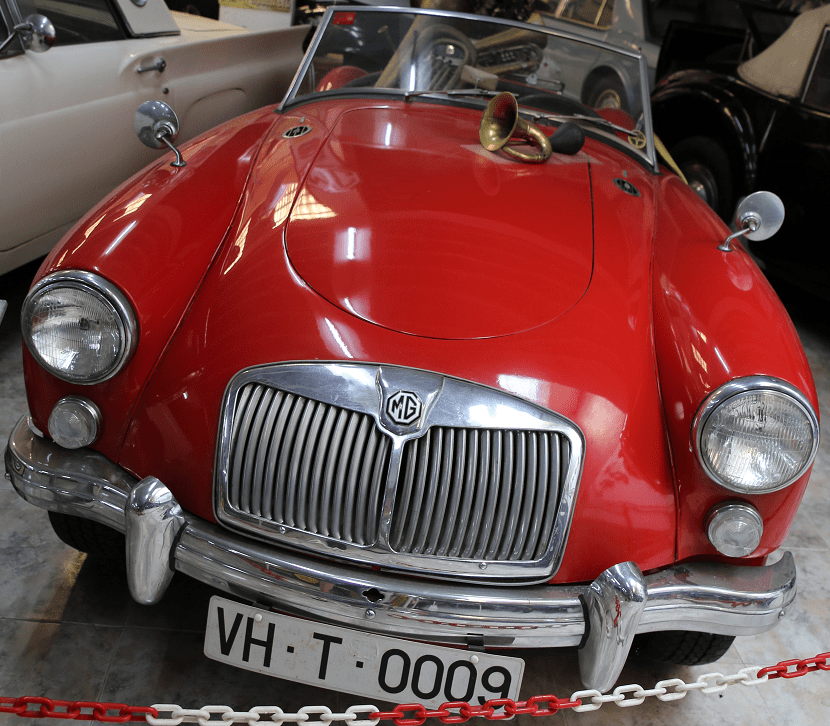 Red MG A Roadster from 1955, four cylinders, 1584 cc, 78 HP, max. speed 160 km/h. Period: 1955 – 1962
The MGA is a sports car that was produced by MG from 1955 until 1962.
The MGA replaced the MG TF 1500 Midget and represented a complete styling break from MG's earlier sports cars. Announced on 26 September 1955 the car was officially launched at the Frankfurt Motor Show.
A total of 101,081 units were marketed through the end of production in July 1962, the vast majority of which were exported. 5869 cars were sold on the home market, and the MGA was replaced by the MGB.
1500 series
The 1489 cc engine fitted with twin H4 type SU Carburettors produced 68 hp (51 kW) at first, but was soon uprated to 72 hp (54 kW). Lockheed hydraulic drum brakes were used on all wheels. A coupé version was also produced, bringing the total production of standard MGAs to 58,750.
An early open car tested by British magazine The Motor in 1955 had a top speed of 97.8 mph (157.4 km/h) and could accelerate from 0–60 mph (97 km/h) in 16.0 seconds. A fuel consumption of 26.7 miles per imperial gallon (10.6 L/100 km; 22.2 mpg‑US) was recorded. The test car cost £844 including taxes.