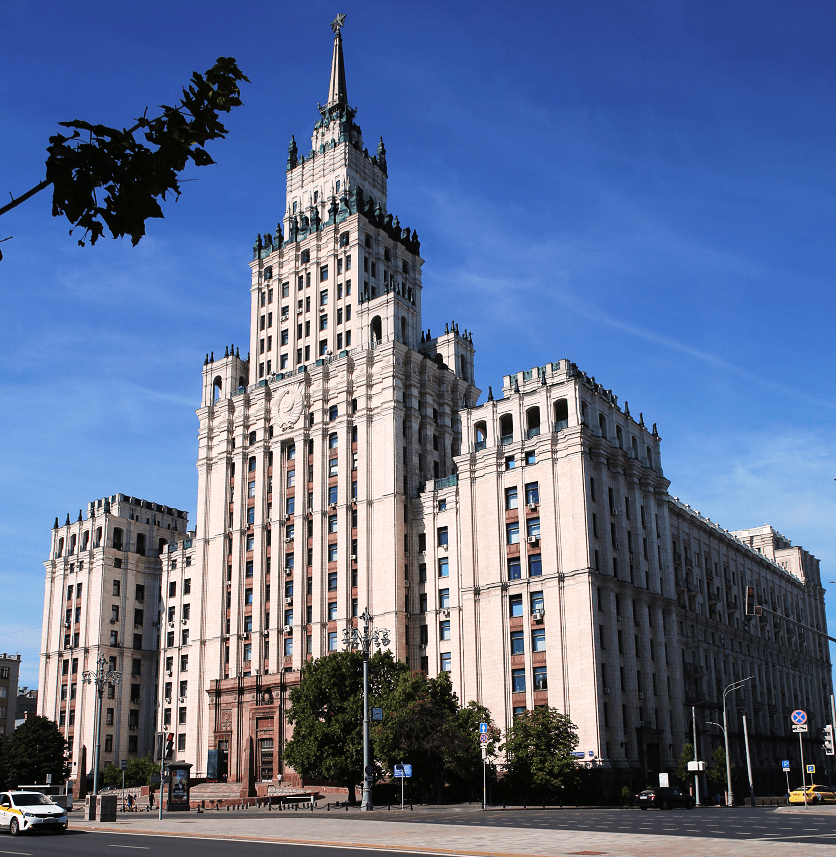 The administrative and residential building on Lermontovskaya Square (Red Gate Building) is one of the seven completed Stalinist skyscrapers.
It was built in Moscow in 1947-1953 according to the project of architects Alexei Dushkin and Boris Mezentsev and designer Viktor Abramov.
The central building was intended to house government agencies, and 276 apartments were arranged in the side buildings: from two to five rooms, and in the five-room apartments next to the kitchens there were small rooms "for the housekeeper". A feature of this skyscraper was the placement of the underground lobby of the metro station in it.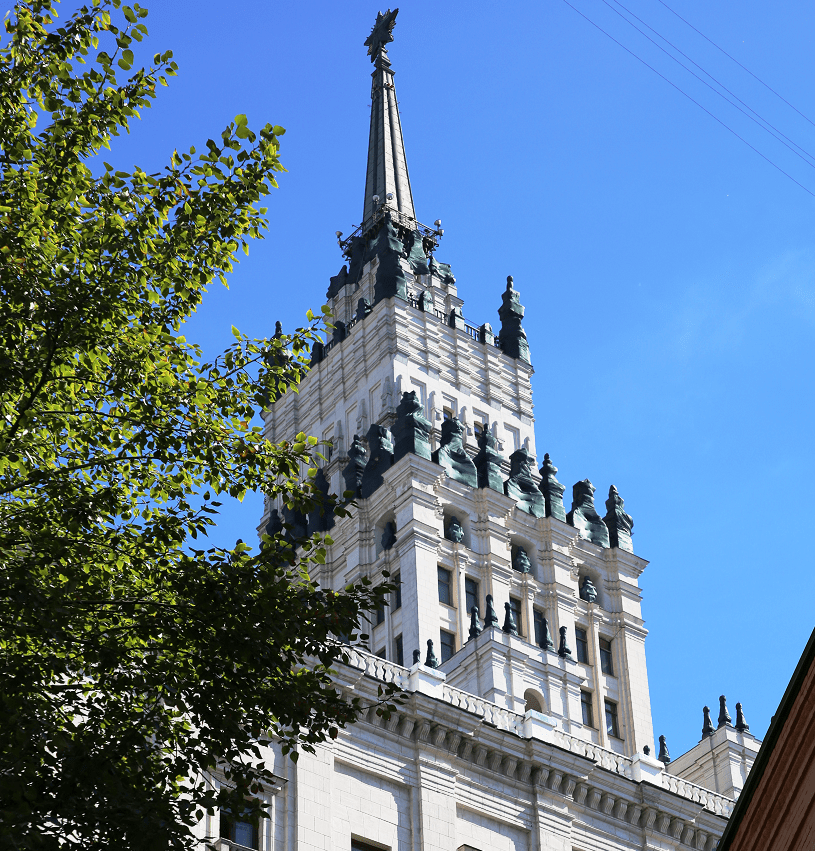 According to data from the 2010s, offices in the central building were occupied by administrative and trade union organizations, corporations, and a bank. The main volume of the tower is occupied by the Transstroy Corporation. In 2015, the granddaughter of the architect Natalya Dushkina lived in the house. Periodically, she conducted tours of the skyscraper.
In the right wing of the building, there is one of the two vestibules of the Krasnye Vorota metro station, overlooking Kalanchevskaya Street, as well as jewelry and food stores and a pharmacy. A common basement connects all three buildings, which do not have ground and attic passages. The basement is also connected to the subway service rooms and a network of special underground facilities. There is a restaurant in the courtyard of the house, which is docked to the central building. There is a kindergarten in the left wing of the building.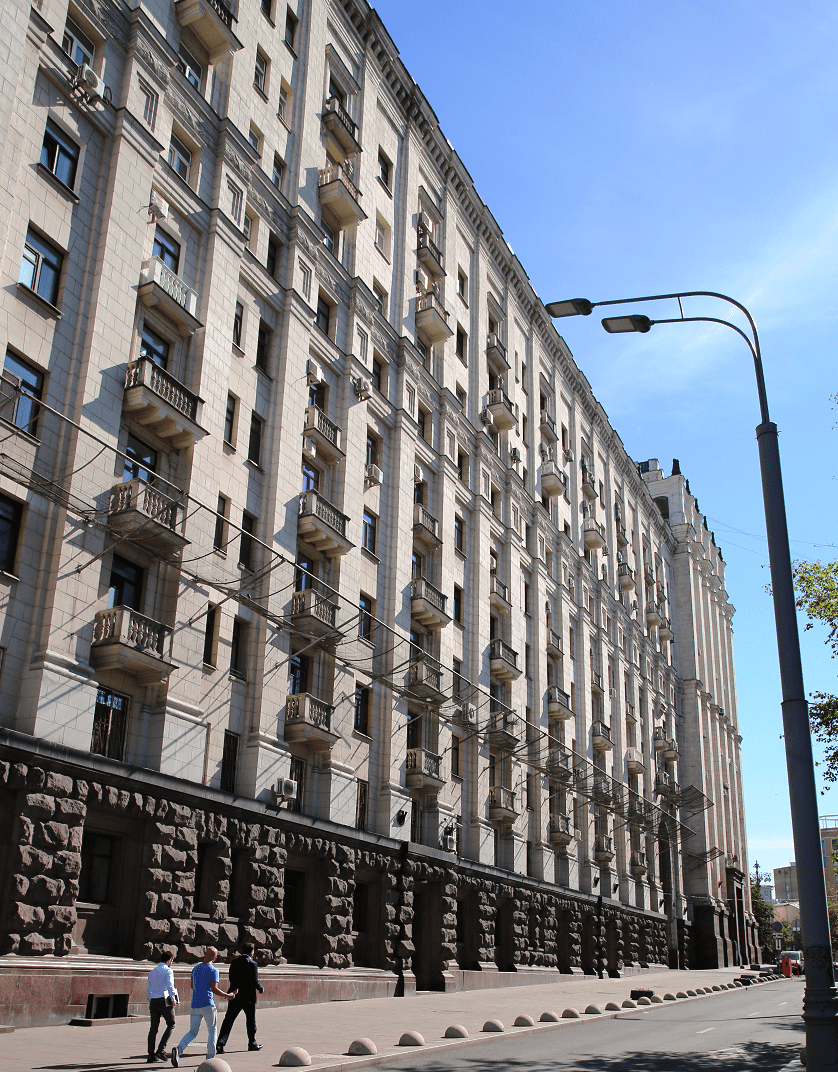 The 138-metre building consists of a central 24-storey building and two side buildings with a variable number of storeys ranging from 11 to 15. The exterior walls of the skyscraper are clad in natural limestone, while the ground floors are clad in red granite. The interiors of the building are more modest than in other Stalinist skyscrapers. For example, stainless steel was used in the front lobby and there are no expensive materials or picturesque panels.
The central building on the courtyard side had an assembly hall (on the ground floor) and an exhibition hall (on the basement). A tunnel was created along the perimeter of the basement with an entrance from the side of Komsomolskaya Square. It was intended for trucks serving the services of the building.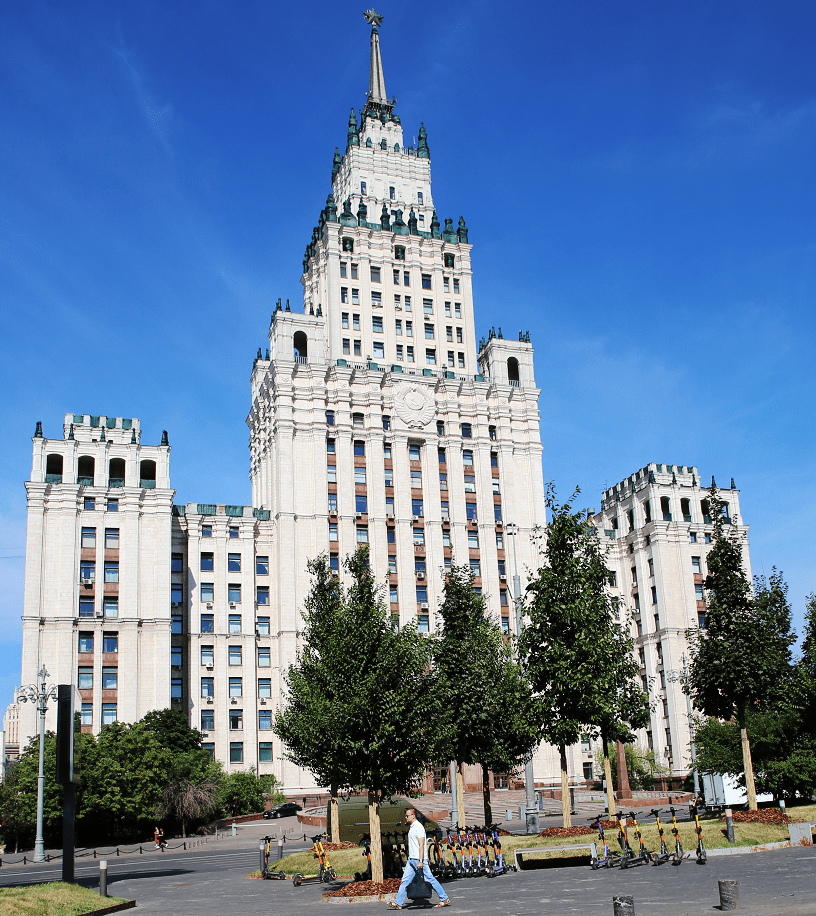 The building was originally built for the needs of the Ministry of Railways. However, by 1951, when the works were completed, a new union agency Mintransstroi existed and it got the offices in the central block of the skyscraper.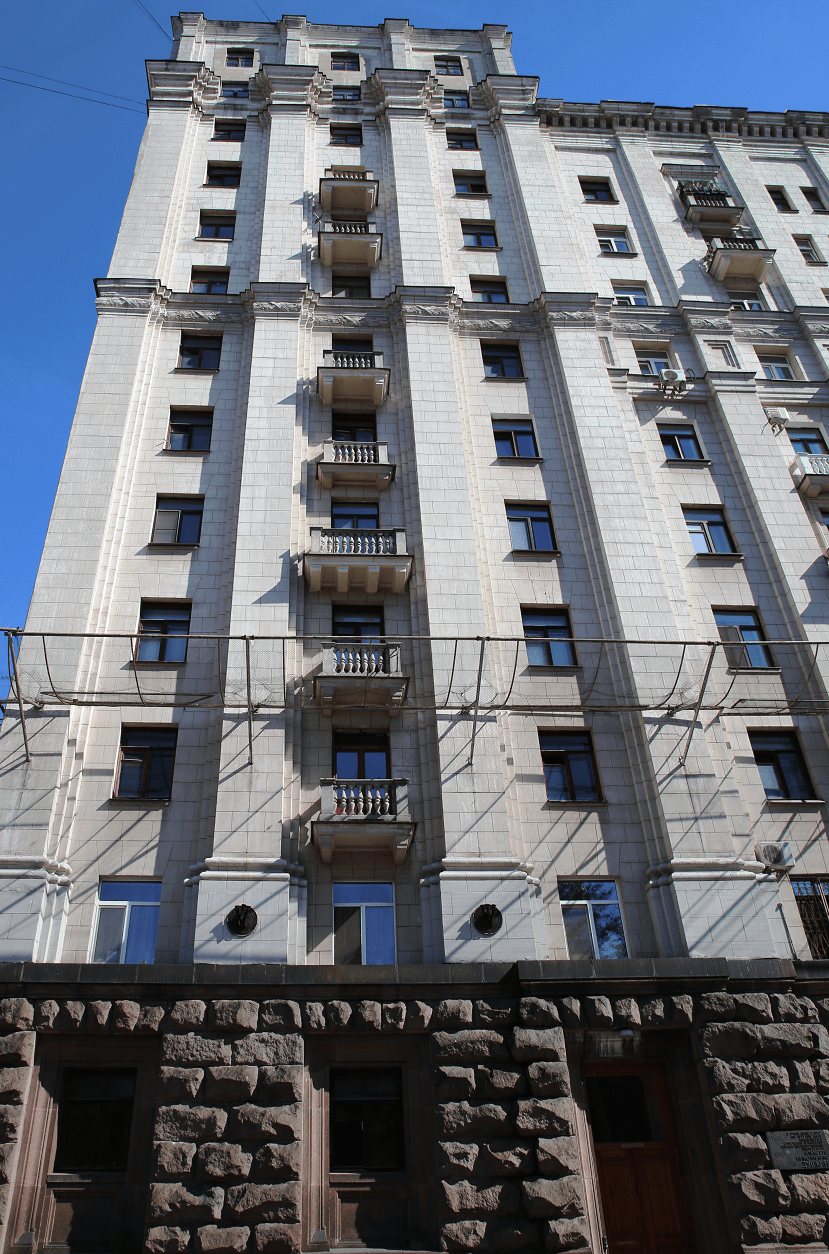 Nearest metro stations: Krasnye vorota (Red Gates).
Attractions around: Myasnitskaya Street, Menshikov Tower, Chistye Prudy (pond), Chistoprudny Boulevard, Sovremennik Theatre, Turgenevskaya Square, Bolshoi Theatre, Manezhnaya Square, Ploschad Revolyutsii (square), State Duma building, House of the Unions, Tretyakovskiy proezd, Central Children's Store, Lubyanka Building, Metropol Hotel, Et Cetera theatre, Turgenev Library, Buildings of the insurance company "Russia", Lukoil building, Academician Sakharov Avenue, Tsentrosoyuz Building, Kremlin, Nikolskaya Street, Polytechnic Museum, Red Square.
See also Architecture of Moscow, Palaces and most historic buildings of Moscow.