Red Ford Cortina Consul Deluxe from 1964. 
The Ford Cortina is a medium-sized family car that was built initially by Ford of Britain, and then Ford of Europe in various guises from 1962 to 1982, and was the United Kingdom's best-selling car of the 1970s.
The Cortina was produced in five generations (Mark I through to Mark V, although officially the last one was only the Cortina 80 facelift of the Mk IV) from 1962 until 1982. From 1970 onward, it was almost identical to the German-market Ford Taunus (being built on the same platform), which was originally a different car model. This was part of Ford's attempt to unify its European operations. By 1976, when the revised Taunus was launched, the Cortina was identical.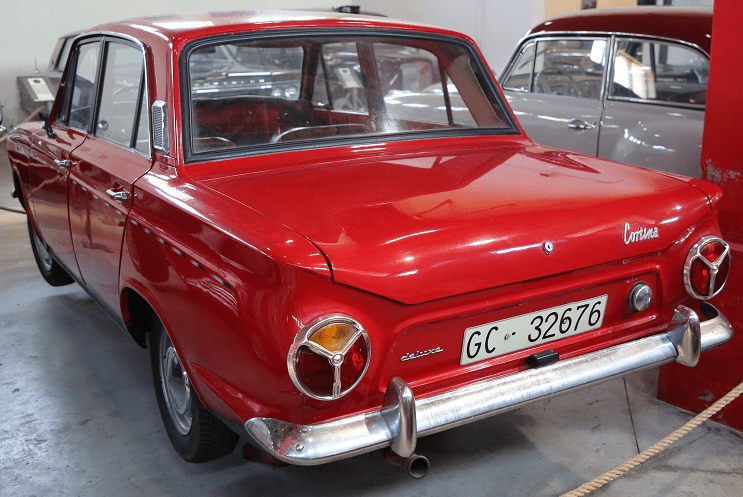 The new Taunus/Cortina used the doors and some panels from the 1970 Taunus. It was replaced in 1982 by the Ford Sierra. In Asia and Australasia, it was replaced by the Mazda 626-based Ford Telstar, though Ford New Zealand did import British-made complete knock-down kits of the Sierra estate for local assembly from 1984. Cortinas were also assembled in South Africa until 1984, with the pick-up version remaining in production in that country until 1987.
The name was inspired by the name of the Italian ski resort Cortina d'Ampezzo, site of the 1956 Winter Olympics. Several Cortinas were driven down the Cortina Olympic bobsled run at that resort, a publicity stunt which Ford called "Cortina Auto-Bobbing."