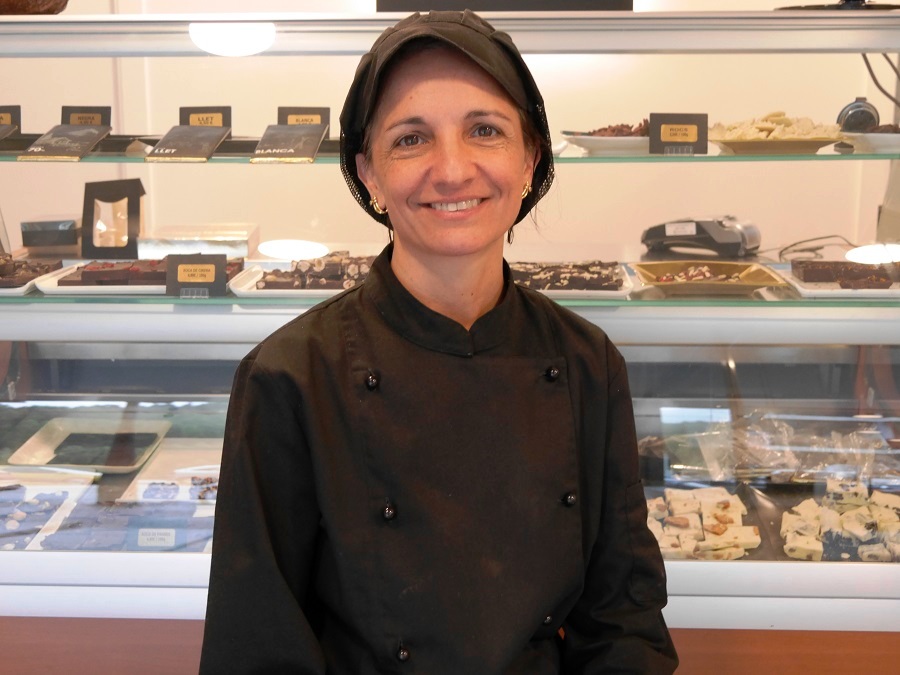 Esther Suils Massana, a teacher, came to Andorra with her husband, an economist, to start their own chocolate production here, for the first time in the history of the principality. She told all-andorra.com about the features and varieties of this product:
"A few years ago we left Barcelona to live in the Philippines and once we visited a cocoa bean plantation. It was interesting to learn that cocoa is a large fruit about 20cm big, resembling a cucumber and a lemon at the same time.
With a visit to the plantation, it all started. That's when we decided to learn about the production of chocolate from a professional point of view. We completed specialized courses in the Philippines, then continued our studies in Paris, France and in Thailand.
We did not think long about where to apply our knowledge. After examining the market, we discovered that in Andorra no one had ever produced their own chocolate. Getting a production permit was not too difficult but took a long time. However, we did not need any special license. It was necessary to draw up documents similar to those issued by ordinary restaurateurs.
Today we produce about 200kg of chocolate per month. True, this figure is very approximate. Chocolate is a seasonal product. Hot chocolate, truffles, chocolate sweets – this is more a winter product, and in summer it is not very much in demand.
Our factory occupies two floors. The fact is that cocoa requires a tropical climate and this product should be stored at a rather high temperature. For the production of chocolate, cold and dry air is required. Therefore, on different floors, we have different temperatures.
The peculiarity of our factory is that once a week we conduct excursions during which we explain how chocolate is made and then we carry out tastings. The cost of the tour is 5 euros. We also conduct master classes for children who can then take home a product they created themselves.
We produce four types of chocolate – bitter, dark, milky and white. The main difference is in proportions. Bitter chocolate consists of 90% of solid cocoa and 10% of sugar. White chocolate contains only cocoa butter. Our white chocolate is made from the oily part of cocoa butter, milk and some sugar.
Dark chocolate is 70% of cocoa and 30% of sugar. Milk chocolate – 40% of cocoa, 30% of milk and 30% of sugar. This type of chocolate is used to make chocolate glazing too.
Here in Andorra people seem to particularly love white chocolate with a crumb of cookies. We call it "Andorran chocolate" – this is our exclusive product. We add nuts or ginger to dark chocolate, and it is also very common here.
Some people mistakenly think that chocolate is a very unhealthy product. What is harmful is the sugar. However, real chocolate contains a minimum amount of sugar and is an excellent substitute for it – moreover, natural.
My favorite product, Cacao nibs, is a 100% fine chocolate crumb made of cocoa.
Chocolate has a huge amount of useful properties. For example, bitter, dark and milk chocolate contain the substance theobromine – a colorless crystal of organic origin with a high content of nitrogen, which, along with caffeine, has a stimulating effect. In other words, theobromine stimulates the production of the "hormone of joy" – endorphin, which improves our mood and gives us strength and energy.
Theobromine is also a diuretic that helps remove edema. This substance prevents the formation of blood clots, and with its help, even coughs and sore throats can be treated.
Cocoa butter contains fatty acids, stabilizing cholesterol and vitamin E, which is the strongest antioxidant and has anti-aging properties.
Regular consumption of cocoa in small doses (5 raw beans per day) helps to strengthen the nervous and immune systems. Cocoa is useful in both mental and physical stress, it relieves nervous tension and helps us to relax, but at the same time, it helps our concentration too, increasing efficiency. Therefore, this product is great for both students and athletes. "