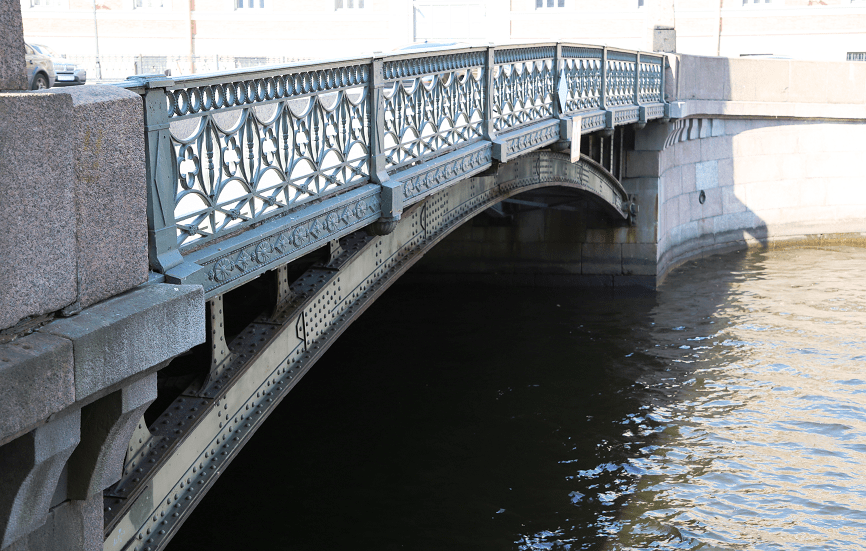 Potseluev Bridge (Bridge of kisses) is a road metal arch bridge across the Moyka River in the Admiralteysky District of St. Petersburg, connecting Kazansky and 2nd Admiralteysky Islands. An object of cultural heritage of Russia of federal significance. One of the iconic places in St. Petersburg, which has acquired legends due to its name.
It connects Glinka Street with the western (odd) embankment of the Moyka River. Next to the bridge are the New Holland island and the building of the Naval Kryukov Barracks (Central Naval Museum).
Upstream is the Post Office Bridge, below is the Krasnoflotsky Bridge.
The nearest metro station (1.3 km) is Sadovaya.
The existing name of the bridge has been known since 1790 and was given by the name of the drinking house "Kiss" of the merchant of the 3rd guild Nikifor Vasilyevich Potseluev, which was located on the left bank of the Moyka River, at the corner of Nikolskaya Street.
The length of the bridge is 35.8 m, the width of the bridge in the axes of the railing is 23.5 m. The bridge is designed for vehicular and pedestrian traffic.