The portable radio receiver "Souvenir" from 1965 was produced by the Voronezh Radio Plant (USSR).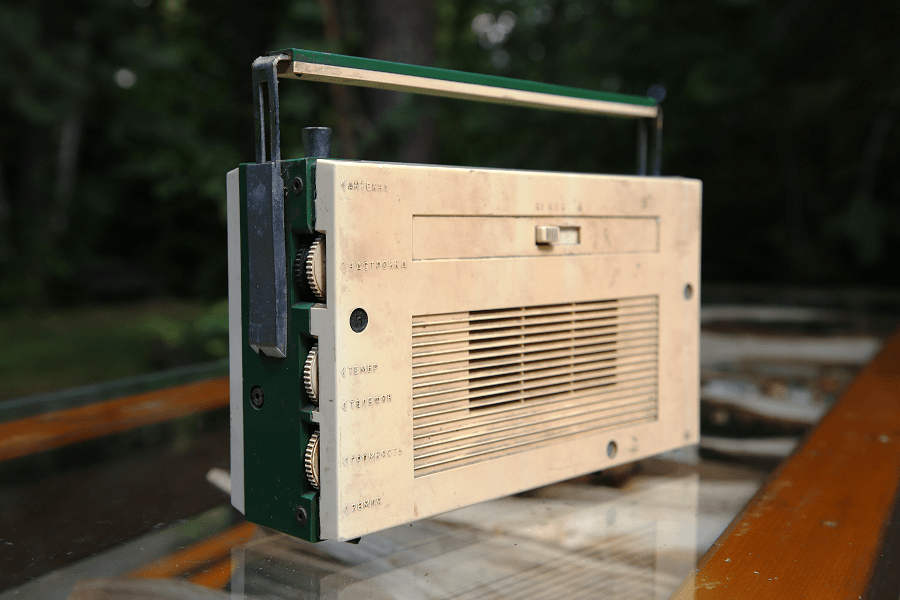 The portable radio receiver of the 2nd class "Souvenir" is a superheterodyne assembled on 10 transistors and 2 crystal diodes.
The Souvenir radio receiver allows the reception of radio broadcasting stations in the range of DV, SV and 2KV.
Reception in the DV and SV ranges is carried out on the internal magnetic antenna, and in the ranges of the KV1 and KV2 on the pin telescopic antenna.
The receiver uses a piezorammal filter of concentrated selection, which made it possible to achieve high selectivity of 40 dB.
Thanks to the use of vernier devices with a high slowdown (1:12), the setting on radio stations operating in the KV range is very facilitated.
It is possible to connect the outer antenna, grounding and head phones.
Power from 2 batteries of KBS-l.
The case is made of plastic.
Technical data:
– selectivity – no worse than 40 dB;
– frequency range – 200-4000 Hz;
– sensitivity – DV 2 MV/m; SV 1 MV/m; KV 200 μV/m;
– nominal output power – 150 MW;
Dimensions: 260x160x67 mm;
Weight: 1.6 kg.
Elektrosygnal is a Russian plant located in the city of Voronezh, focused on the development and production of civil and military communications. It was founded in 1931 under the name "Red Signalist", then renamed "Elektrosignal", during the war, in 1941, was evacuated to the city of Novosibirsk, partially returned in 1943. The company is part of Rostech Corporation.
Rostec (Russian: Ростех, tr. Rostekh), formally trading as State Corporation "Rostec", fully the State Corporation for the Promotion of the Development, Manufacture, and Export of High Tech Products "Rostec" and formerly Rostekhnologii, is a Russian state-owned defense conglomerate headquartered in Moscow.