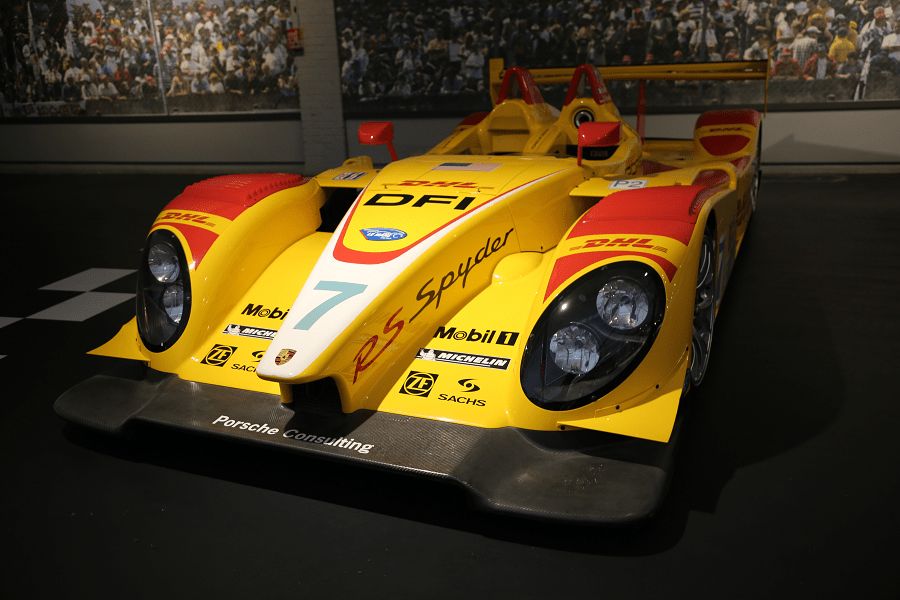 Porsche RS Spyder Le Mans from 2006, 3396 cc, 825 kg, V8, 503 HP, 330 km/h
The RS Spyder (Type 9R6) is a racing car designed by Porsche in conjunction with Penske to compete in Le Mans Prototype Class 2 (LMP2) racing.
The car takes its name from the legendary Porsche 550 Spyder of the 1950s. The car marked Porsche's first return to the top level of sports prototype racing since the firm abandoned its Porsche LMP in 1999.
The RS Spyder made its debut in the final event of the 2005 American Le Mans Series (ALMS) at Laguna Seca winning its class. Since then the RS Spyder has won the ALMS LMP2 Championship in 2006, 2007 and 2008 and took class honours at Le Mans in 2008 and 2009.
The outright victory at the 2008 12 Hours of Sebring was the first major victory for Porsche in endurance racing for five years and it was also the first time in 14 years that the non-premier class won the 12 Hours of Sebring overall.
Regulation changes for the 2011 season rendered the RS Spyder obsolete but the car has left a legacy in the Porsche 918 Spyder, which uses a development of the RS Spyder's engine and the Porsche 919 Hybrid which carried Porsche's racing program on into the LMP1 category starting in 2014.