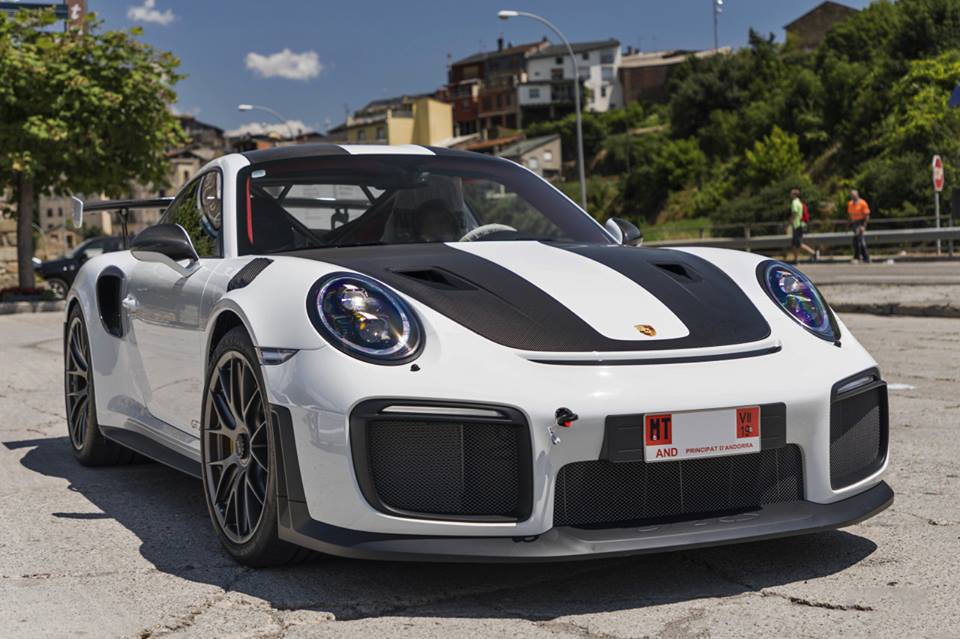 Porsche 911 GT3 RS Weissach Package: white body with gray strips
In February 2018, Porsche unveiled the new GT3 RS, available with optional Weissach package with the official unveiling taking place at the 2018 Geneva Motor Show.
The developers have also reduced the weight further with lightweight construction features. For example, the front lid, vehicle roof and upper shells of the exterior mirrors are made of carbon-weave finish. The double rear wing with large Porsche logo is also partly made of this high-tech material. Rear axle components such as the stabilisers, coupling rod and shear panel are made of carbon. The resulting reduced unsprung mass further improves handling. In conjunction with the Weissach package, special lightweight magnesium forged wheels are also available. They are more than 20 per cent lighter compared to the standard aluminium wheels.
Carbon-weave finish (satin finish) is also used in the interior – on the steering wheel trim and the interior door handles. The top of the dashboard is trimmed in Race-Tex and is not only elegant to look at, but also reduces reflections, just like the flocked versions in thoroughbred racing cars comfort. Another highlight is the magnesium shift paddles of the Porsche dual clutch transmission (PDK). The magnetic haptic elements derived from the setup 911 GT3 Cup give them an even crisper force-path curve. They allow a higher operating force and provide precise acoustic feedback for the switching point. The up and down shift icons are highlighted in yellow on the paddles.
The Weissach Package logo adorns the bezel of the cupholder and is embroidered into the headrests. The reduced trimming of the floor carpet saves weight. The Weissach package is available on request for the first time with a bolted-on roll cage in carbon-weave finish if the customer chooses full bucket seats. The GT3 RS is also equipped with six-point seat belts for the driver and passenger.