Police cars of the USSR: VAZ 21011 Zhiguli. Made in 1975. Power – 69 hp
21011 (1974–1981) — modified variant with a 67 hp (50 kW; 68 PS) 1,294 cc (79 cu in) engine.
Further changes included self-adjusting drum brakes on the rear axle, also fitted to the VAZ-2101. Flat front indicator lenses instead of the dome-shaped ones on the VAZ-2101. The "horns", or over-riders, on the bumpers were removed and replaced with a rubber strip running the whole length of the bumper.
The rear lights were also smoothed in a similar manner to the indicator lenses and the passive reflector (previously a separate part underneath the main rear lights) was incorporated as a small, square-shaped part in the rear light cluster itself. The windshield pump was moved down and was operated by foot (rather than by rubber button on the dashboard VAZ 2101, which was operated with the push of a finger).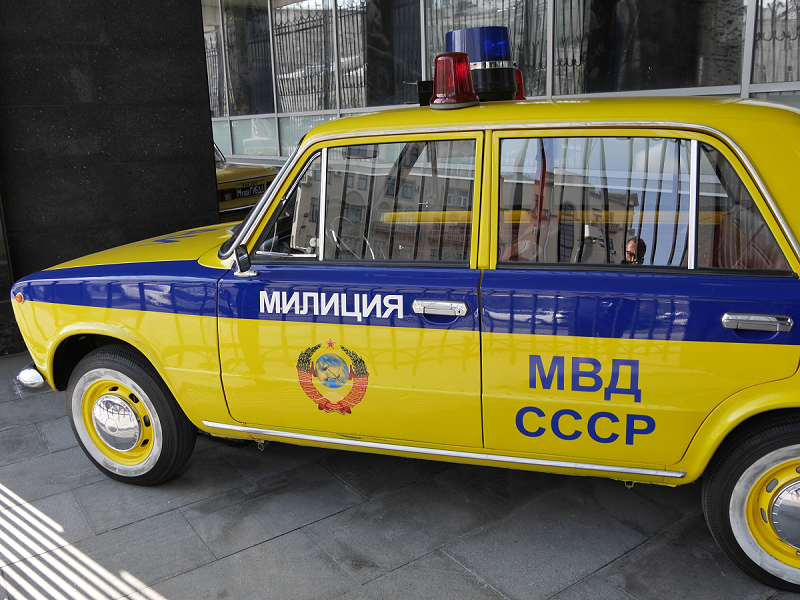 The dashboard had a wood-effect plastic trim; the horn was placed on the steering wheel cover. The front and rear seats became more comfortable. Material and colouring of the instrument panel was changed from the original black on light grey to white on black, the instrument panel lighting was altered as well. On the rear pillars there were rectangular ventilation holes with grille, which were not present on the VAZ-2101.
Four horizontal oval holes for improved air flow to the radiator appeared on the front panel just above the front bumper. The export series were designated the Lada 1300.