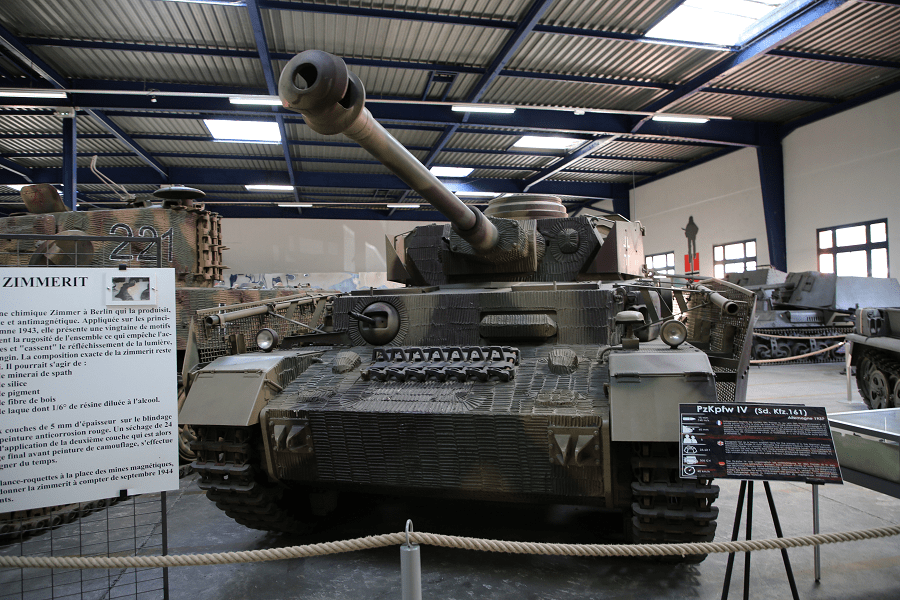 The Panzerkampfwagen IV (Pz.Kpfw. IV), commonly known as the Panzer IV, was a German medium tank developed in the late 1930s and used extensively during the Second World War. Its ordnance inventory designation was Sd.Kfz. 161.
The Panzer IV was the most numerous German tank and the second-most numerous German fully tracked armoured fighting vehicle of the Second World War; 8,553 Panzer IVs of all versions were built during World War II, only exceeded by the StuG III assault gun with 10,086 vehicles. Its chassis was also used as the base for many other fighting vehicles, including the Sturmgeschütz IV assault gun, the Jagdpanzer IV self-propelled anti-tank gun, the Wirbelwind self-propelled anti-aircraft gun, and the Brummbär self-propelled gun.
The Panzer IV saw service in all combat theatres involving Germany and was the only German tank to remain in continuous production throughout the war. It was originally designed for infantry support, while the similar Panzer III was to fight armoured fighting vehicles. However, as the Germans faced the formidable T-34, the Panzer IV had more development potential, with a larger turret ring to mount more powerful guns, so it swapped roles with the Panzer III whose production wound down in 1943.
The Panzer IV received various upgrades and design modifications, intended to counter new threats, extending its service life. Generally, these involved increasing the armour protection or upgrading the weapons, although during the last months of the war, with Germany's pressing need for rapid replacement of losses, design changes also included simplifications to speed up the manufacturing process.
The Panzer IV was partially succeeded by the Panther medium tank, which was introduced to counter the Soviet T-34, although it continued to be a significant component of German armoured formations to the end of the war. It was the most widely exported tank in German service, with around 300 sold to Finland, Romania, Spain and Bulgaria. After the war, Syria procured Panzer IVs from France and Czechoslovakia, which saw combat in the 1967 Six-Day War.
Manufacturers: Krupp, Vomag, Nibelungenwerk.