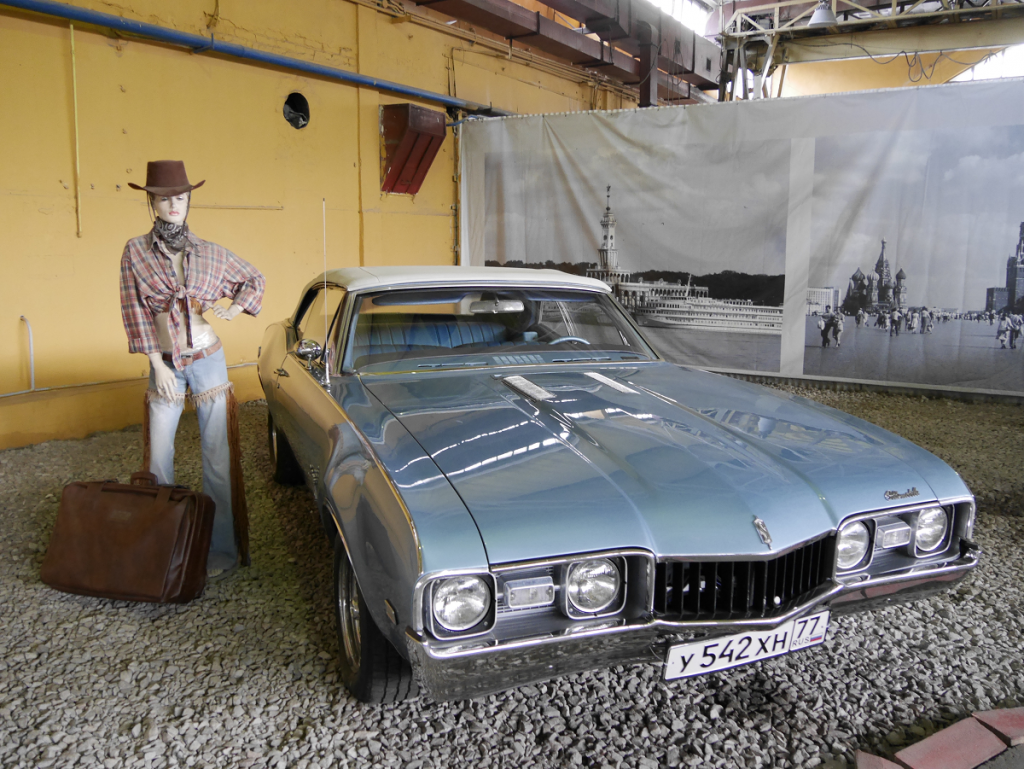 The Oldsmobile Cutlass was a series of automobiles produced by General Motors' Oldsmobile division between 1961 and 1999. At its introduction, the Cutlass was Oldsmobile's entry-level model; it began as a unibody compact car, but saw its greatest success as a body-on-frame intermediate. The Cutlass was named after the type of sword, which was common during the Age of Sail.
Introduced as the top trim level in Oldsmobile's compact F-85 Series, the Cutlass evolved into a distinct series of its own, spawning numerous variants, including the 4-4-2 muscle car in 1964, premium Cutlass Supreme in 1966, and outright performance Hurst/Olds in 1968, as well as the Vista Cruiser station wagon.
By the 1980s, Oldsmobile was using the Cutlass as a sub-marque, with numerous vehicle lines bearing the name simultaneously. These included the Cutlass Calais compact, the midsize Cutlass Ciera, the Cutlass Cruiser station wagon, and top-of-the-line midsize Cutlass Supreme.
Third generation (1968)
The F-85/Cutlass underwent a major body restyle in 1968, as did all other GM A-body cars. Oldsmobile's was penned by the styling studio headed by Stan Wilen. Two-door and four-door models now rode different wheelbases: 112 inches (2,800 mm) for two-doors and 116 inches (2,900 mm) for four-doors. Ostensibly, this change was to allow more individual styling, although several engineers were quoted off the record as saying the 115-inch (2,900 mm) wheelbase had created problems with uncomfortable "freeway hop" owing to its resonance frequency. Overall length shrunk about 2.6 inches (66 mm), but curb weight rose approximately 75 pounds (34 kg) to 3,465 lb (1,572 kg) for the hardtop coupe. Two-door F-85 and Cutlass models adopted a semi-fastback roofline, which was a revival of a streamlining on all GM products from 1942 until 1950 as demonstrated on the Oldsmobile Rocket 88 Club Coupe.
Base model remained the F-85, with mid-level Cutlass S, and upscale Cutlass Supreme, as well as the 4-4-2, which became a distinct model instead of an option package. A limited-production model was the Hurst/Olds, a special 4-4-2 marketed by Oldsmobile and Hurst Performance.
The H/O combined the 4-4-2 suspension package with a 455 cu in (7.5 L) Rocket V8, not ordinarily offered in Cutlasses because of a GM policy limiting intermediates to engines of 400 cu in (6.6 L) or less. Cutlass and Vista Cruiser station wagons were likewise redesigned; the F-85 wagon was discontinued.
Engine options were similar to the previous year, although the Cutlass's V8 option was expanded to 350 cu in (5.7 L), still with both two- and four-barrel carburetion. The variable-pitch stator feature of both optional two-speed Jetaway and three-speed Turbo Hydra-matic automatic transmissions was discontinued.
Power: 350 HP
Year of production: 1968
Made in USA
Moscow transport museum