Novoarbatsky bridge (Kalininsky bridge) is a road bridge across the Moscow River in Moscow. It connects the Western administrative district (Kutuzovsky prospect) and Central (Novy Arbat). One of the first bridges in Russia with an all-welded steel-reinforced concrete span and a roadway slab pressed with high-strength reinforcement.
On opposite sides of the bridge are the Taras Shevchenko and Smolenskaya embankments.
Near the bridge are the House of the Government of the Russian Federation, the COMECON building, the Radisson Collection Hotel Moscow (Ukraina Hotel).
Upstream is the Bagration Bridge, below is the Smolensky metro bridge.
The nearest metro stations are Kyevskaya and Smolenskaya. Bus stops n2, m2, m27, 91, 116, 157, 216, 474, 840 are located nearby.
The authors of the approved bridge design are engineers M. S. Rudenko, S. Terekhin, M. Kryuchkov and architects K. Yakovlev and A. Dushkin, co-authors are architects M. Markovsky, A. Susorov, B. Thor. The bridge was built in 1954-1957.
On October 4, 1993, from the bridge, tanks shot at the Government building, in which opponents of Yeltsin's reforms from among the deputies of the Supreme Soviet of the RSFSR met.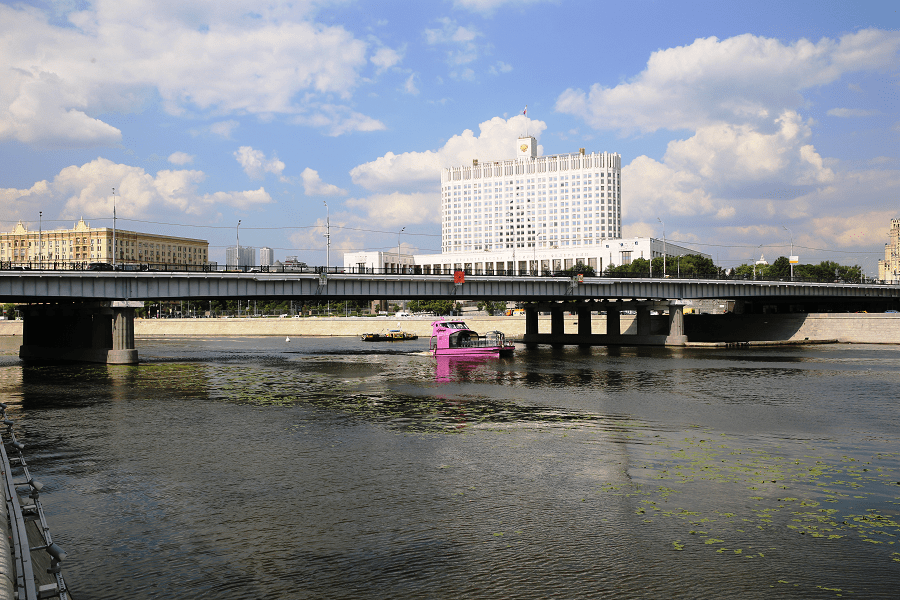 By the beginning of the 2000s during the inspections of the bridge, a significant decrease in the carrying capacity of the bridge, sagging of the span by 10-15 cm, violation of drainage and waterproofing, development of corrosion damage to steel and reinforced concrete structures were revealed. In 2003-2004 the first major overhaul of the bridge since its construction was carried out.
This is a three-span steel-reinforced concrete beam bridge. The river bed and embankments are blocked by a continuous beam with spans of 72.6 + 108.0 + 72.6 m. The bridge is oblique in plan, the angle of oblique is 73.5° to the riverbed.
The length of the bridge is 502 m, the width is 43 m (of which the width of the carriageway is 34 m and two sidewalks are 4.5 m each). The approaches to the bridge are reinforced concrete overpasses 90 and 158 m long, inside of which there are closed parking lots.
The bridge is designed for vehicular and pedestrian traffic. The carriageway includes 8 traffic lanes.
Main attractions and facilities around: Kiyevsky railway station, Europe Square, Savvinskaya Embankment, Rostovskaya embankment, Bogdan Khmelnitsky Bridge, Radisson Slavyanskaya hotel, Smolenskaya embankment, Borodinsky Bridge, COMECON building.
See also bridges and embankments of Moscow.