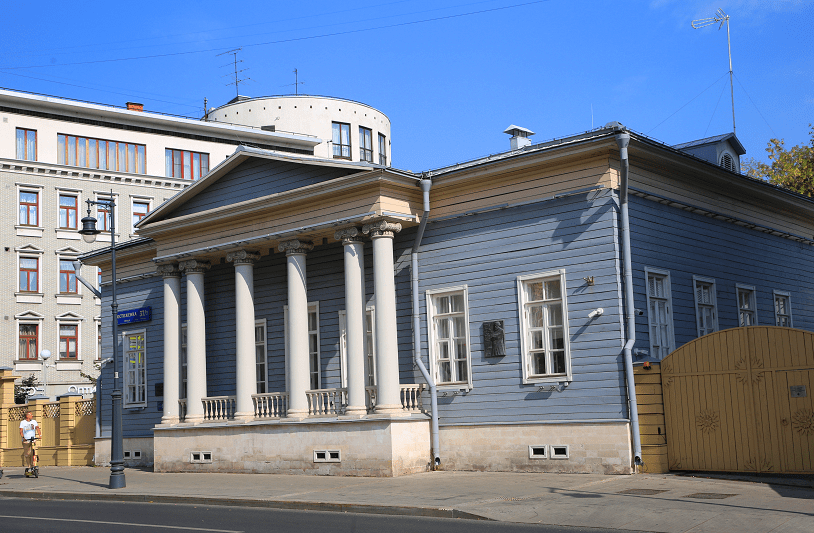 The Museum of I. S. Turgenev (Mumu's house) is a wooden mansion on Ostozhenka Street (Moscow), 37, where I. S. Turgenev's mother, V. P. Turgenev, lived from 1840-1850 when the events that formed the outline of the story "Mumu" occurred. In 2007, the museum of the writer was founded in the house.
After the Moscow fire of 1812, the site on Ostozhenka, which Lieutenant General K. F. Knorring owned, was acquired by the titular adviser D. N. Fedorov. Built in 1819, a one-story Empire-style mansion, typical of post-fire buildings – with a six-column portico, mezzanines and seven windows along the facade – Fedorov began to rent out. In the 1820s, the Aksakov family was among the residents.
On September 16, 1840, Varvara Turgeneva settled in the mansion.
In April 2007, according to the Decree of the Government of Moscow, the house became a branch of the State Pushkin Museum. On October 9, 2009, the Museum of Ivan Turgenev was opened.
On the site, a piece of a historical park and an oak from Turgenev's times have been preserved.
The house is an object of cultural heritage of federal significance.
The reconstructed museum was opened on the 200th anniversary of Ivan Turgenev on November 10, 2018, by the President of Russia, Vladimir Putin. On the same day, a monument to the writer by the sculptor Sergei Kazantsev was solemnly unveiled near the museum. Nearby there is a small statue of Mumu.
Turgenev's large-scale graffiti is located next to the house museum of the great Russian writer. It adorns the facade of house No. 37/7, building 2.
Working days: Tue, Wed 10:00–18:00; Thu 13:00–21:00; Fri-Sun 10:00–18:00.
Address: Ostozhenka, 37/7с1, Moscow. Nearest metro: Park of Culture, Kropotkinskaya.