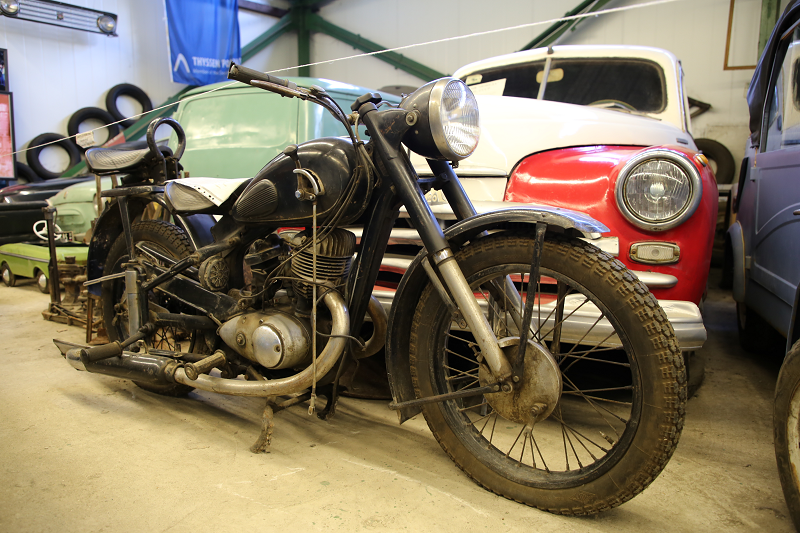 IZH-49. Made in 1956. Index 49 means the year of production start of this model. The prototype of the motorcycle is German DKW SS 350 (model 1939). This motorcycle is in its original state (with all original documents).
Lomakov Museum of Oldtimer Cars and Motorcycles, Moscow
Speed: 95 km / h
Power: 11.5 hp
Weight: 162 kg
Engine volume: 346 cc
The diameter of the cylinder: 72 mm
Piston stroke: 85 mm
Engine: single-cylinder, two-stroke with a return-loop, two-jet blowing and air cooling
Carburetor: K-28B
Tank capacity: 14 l
Clutch: multi-plate in oil
Transmission: two-way, four-speed
Consumption of gasoline: 4.5 l per 100 km
Gasoline: А 66
Length: 2175 mm
Width: 789 mm
Height: 1000 mm
Front fork: telescopic
Rear wheel: sprung
Lada Izhevsk is a subsidiary of the state-owned carmaking company AvtoVAZ based in Izhevsk, Russia. It was formerly a subsidiary of Izmash under the IzhAvto brand, and manufactured both motorcycles and automobiles.
The company was given its current name in 2017.
IZh first proposed an automobile in 1958, with a prototype four-wheel drive for rural use, the NAMI 048 Ogonyok. It used a GAZ chassis and a 750 cc (46 cu in) flat-twin engine based on the Ural M72. It was not produced in quantity.
The Izhevsk car factory was established in 1965 with French automaker Renault as the main contractor. The company started on 12 December 1966 with assembling copies of Moskvitch models 408 (as the IZh 408) with parts shipped in. By the end of the year, 300 had been completed, with the number reaching 4,000 by December 1967. In December 1967, the Moskvitch 412 replaced the 408 on the assembly line (as the IZh 412).