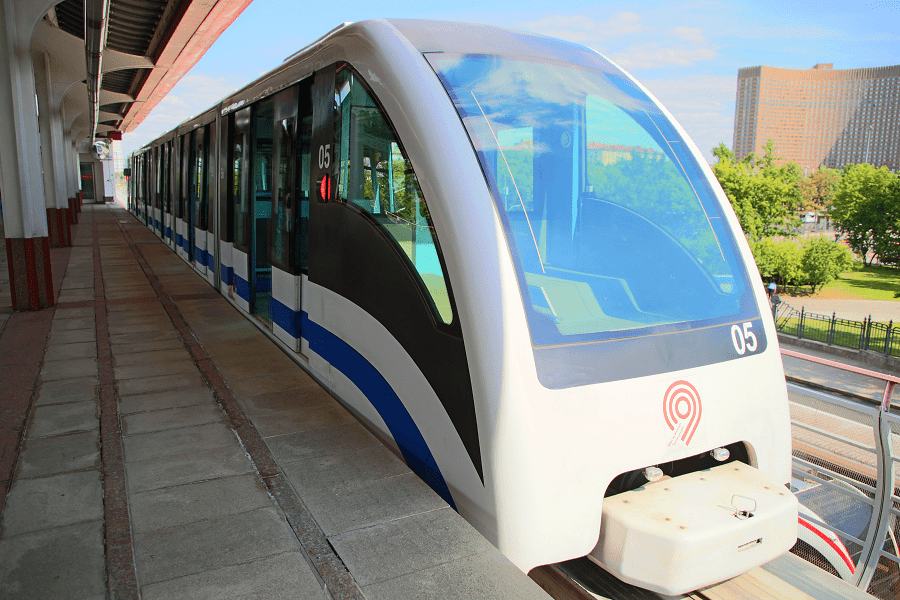 The Moscow Monorail (until 2015 – the Moscow Monorail Transport System (MMTS)) is a type of public transport in Moscow that consists of a single line located in the North-Eastern Administrative District of Moscow. Passes completely over the overpass above the ground. Officially, it is part of the Moscow transport, representing one of the divisions in the Moscow metro.
Technically, it is not connected to metro lines. On the schemes of high-speed transport in Moscow, it is indicated by a blue line of reduced thickness in a gray-blue outline and the number Moscow Monorail.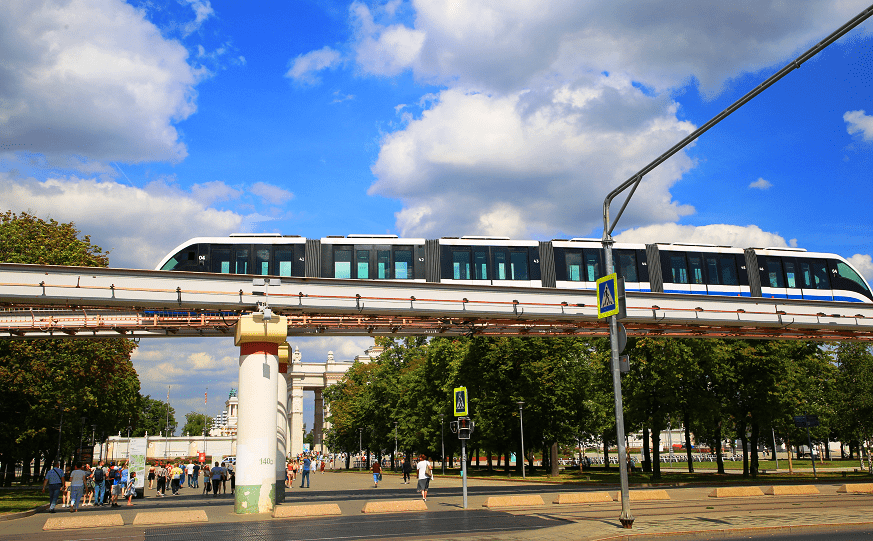 The route runs from the Timiryazevskaya metro station to Sergey Eizenshtein Street (VDNKh metro station). Passes along Fonvizina Street near the Fonvizinskaya Lyublinsko-Dmitrovskaya line station, cross the Oktyabrskaya railway line, passes by the Telecenter along Akademika Koroleva Street, exits to the Main (near the Kaluzhsko-Rizhskaya line of VDNKh), and then to the North entrance of VDNKh park.
At the end of 2014, 5.6 million passengers were transported by the monorail. From January to September 2015, 3.5 million people used the capital's monorail. In 2016 there were 500,000 fewer passengers (14%). The decline in passenger traffic was the launch of the MCC and the opening of three new stations on the Lyublinsko-Dmitrovskaya line.
Today six stations are operating:
Timiryazevskaya (opened in 2004)
Milashenkova Street (opened in 2004)
Telecenter (opened in 2004)
Academician Koroleva Street (opened in 2004)
Exhibition Center (opened in 2004)
Sergei Eisenstein Street (opened in 2004)
Since January 23, 2017, in connection with the transfer of the Moscow monorail from the mode of urban transport to the sightseeing monorail stations, the monorail stations are open for passengers from 7:50 to 20:00 daily. The travel time between Sergey Eisenstein Street terminal stations and Timiryazevskaya is 15-20 minutes.
The line operates from 2 to 6 trains. The first train departs from Sergei Eisenstein Street station at 8:00. From Timiryazevskaya station at 8:15. The last trains leave at 20:00 and 20:15. The cost of a ticket for one trip in 2022 was 55 rubles; a travel ticket without limiting the number of trips for schoolchildren, vocational school students and students – 395 rubles. Travel is free for children under seven years old and when passing through the social card of a Muscovite or a resident of the Moscow Region.