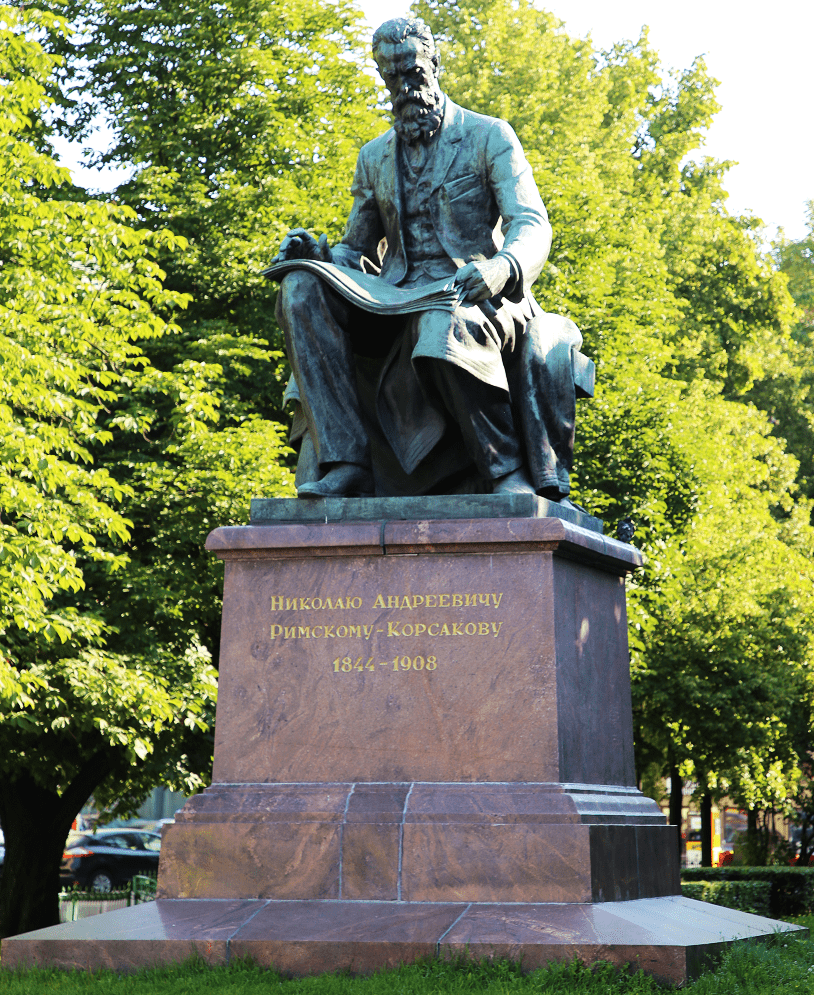 The monument to Nikolai Rimsky-Korsakov is a sculptural monument to the outstanding Russian composer, teacher, conductor, public figure, music critic, member of the Mighty Handful N. A. Rimsky-Korsakov.
Installed in 1952 in St. Petersburg on Theater Square near the building of the Leningrad Conservatory (in front of the Mariinsky Theatre), whose professor N. A. Rimsky-Korsakov was for almost forty years.
The authors of the monument are sculptors V. Ya. Bogolyubov, V. I. Ingal, architect M. A. Shepilevsky. The monument is an object of cultural heritage of federal significance.
Nikolai Andreyevich Rimsky-Korsakov (18 March 1844 – 21 June 1908) was a Russian composer, a member of the group of composers known as The Five.
He was a master of orchestration. His best-known orchestral compositions—Capriccio Espagnol, the Russian Easter Festival Overture, and the symphonic suite Scheherazade—are staples of the classical music repertoire, along with suites and excerpts from some of his 15 operas. Scheherazade is an example of his frequent use of fairy-tale and folk subjects.
Rimsky-Korsakov believed in developing a nationalistic style of classical music, as did his fellow composer Mily Balakirev and the critic Vladimir Stasov. This style employed Russian folk song and lore along with exotic harmonic, melodic and rhythmic elements in a practice known as musical orientalism, and eschewed traditional Western compositional methods. Rimsky-Korsakov appreciated Western musical techniques after he became a professor of musical composition, harmony, and orchestration at the Saint Petersburg Conservatory in 1871.
Address: Theater Square, St. Petersburg.
Nearest metro: Sadovaya, Spasskaya, Sennaya Square