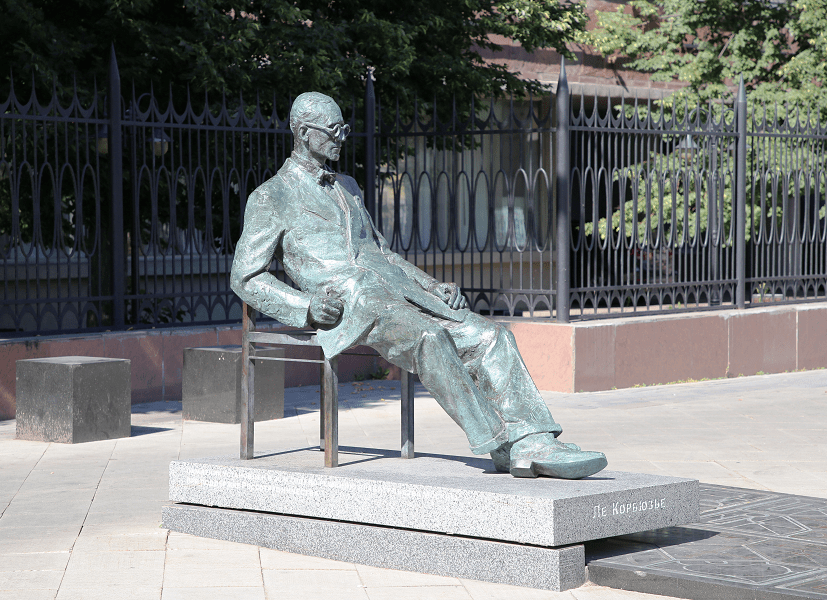 The monument to Le Corbusier is located in front of the Tsentrosoyuz building on Myasnitskaya Street. This is the only building erected by the architect in Moscow. The sculpture was unveiled on October 15, 2015.
The authors of the monument: sculptor Andrey Tyrtyshnikov and architect Anton Voskresensky. The sculpture was a gift from the International Public Foundation "Russian Peace Fund" to the city of Moscow and was built at the expense of the philanthropist Alisher Usmanov.
Charles-Édouard Jeanneret (6 October 1887 – 27 August 1965), known as Le Corbusier was a Swiss-French architect, designer, painter, urban planner, writer, and one of the pioneers of what is now regarded as modern architecture. He was born in Switzerland and became a French citizen in 1930. His career spanned five decades, and he designed buildings in Europe, Japan, India, and North and South America.
Dedicated to providing better living conditions for the residents of crowded cities, Le Corbusier was influential in urban planning, and was a founding member of the Congrès International d'Architecture Moderne (CIAM). Le Corbusier prepared the master plan for the city of Chandigarh in India, and contributed specific designs for several buildings there, especially the government buildings.
On 17 July 2016, seventeen projects by Le Corbusier in seven countries were inscribed in the list of UNESCO World Heritage Sites as The Architectural Work of Le Corbusier, an Outstanding Contribution to the Modern Movement.
Le Corbusier remains a controversial figure. Some of his urban planning ideas have been criticized for their indifference to pre-existing cultural sites, societal expression and equality, and his alleged ties with fascism, antisemitism, and eugenics, and the dictator Benito Mussolini have resulted in some continuing contention.
The monument located near the metro stations Turgenevskaya, Chistye Prudy, Sretensky Boulevard, Krasnye vorota.
Attractions around: Myasnitskaya Street, Menshikov Tower, Chistye Prudy (pond), Chistoprudny Boulevard, Sovremennik Theatre, Turgenevskaya Square, Bolshoi Theatre, Manezhnaya Square, Ploschad Revolyutsii (square), State Duma building, House of the Unions, Tretyakovskiy proezd, Central Children's Store, Lubyanka Building, Metropol Hotel, Et Cetera theatre, Turgenev Library, Buildings of the insurance company "Russia", Lukoil building, Academician Sakharov Avenue.
See more monuments in Moscow